It's been a hectic couple of months but I finally found some time to write about what I've been up to. Here are some of my latest one of a kind alternative clothing items.
Megadeth Lace up Studded Mini Dress
A sexy little Megadeth studded mini dress made from a reconstructed "Endgame" T shirt, with black faux leather studded shoulder panels, open, adjustable sides that lace up with red ribbon and a mini lace up on the bust. The neck line and sleeves are decorated with black wet look binding and there's a sexy, snug fitting wet look hem which keeps the dress from rising up and keeps you feeling "secure" :) It is a one of a kind mini dress in a size 6/8/10 only, with specific measurements listed on my website under the One offs and Custom Clothing section.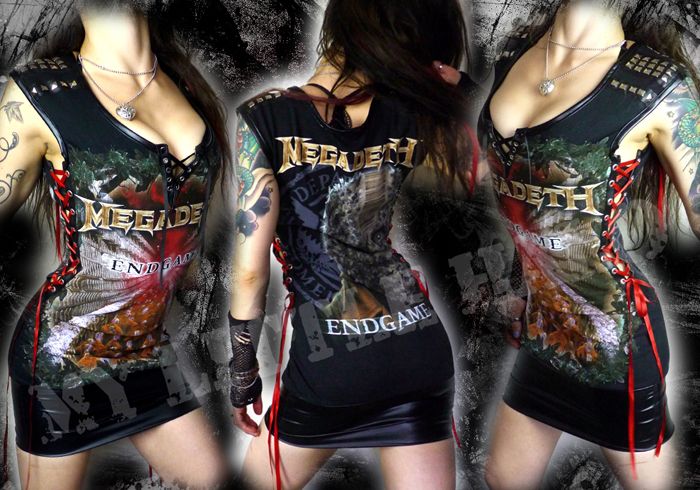 Sexy Studded WASP Mini Dress
So this one I'm keeping for myself but wanted to show it off anyways as I love it! Black and white WASP mini dress made from a Babylon is Burning t shirt with moulded cups, decorated with round silver studs and black faux leather studded crossover straps.
Strapless Iron Maiden Strapless Mini Dress
I originally made this Iron Maiden mini dress to keep for myself but then I made the WASP dress which I prefer so decided to sell this one and keep the WASP one. So this is a strapless mini dress with silver crossed guns logo on the front, with elasticized band around the bust to hold it up and adjustable lace up sides. It's available in roughly a size 6/8/10 and is now up for sale.
Studded Heaven & Hell Rock Chick Vest Top
Studded Heaven & Hell vest top with adjustable lace up sides in red ribbon and faux leather studded shoulder panels, with pointed front cut and high sides to show off the hips. This one is very adjustable as the and will fit a UK size 8/10/12.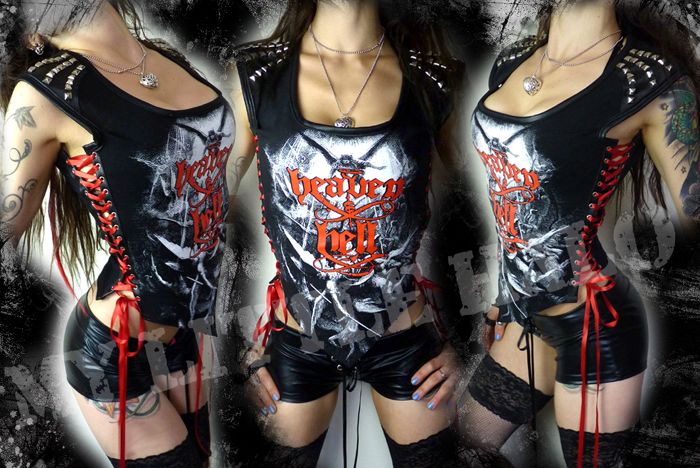 Killswitch Engage Studded Lace up Vest Top
Another adjustable vest top with lace up sides with Killswitch Engage silver skull design and black faux leather studded shoulder panels. Roughly a UK size 8/10/12 also available under One of a kind clothing.
Ozzy Osbourne Studded Bodysuit with Sexy Lace up Back
And lastly here's my first attempt at a bodysuit, which I made as a practice for a custom order but it turned out pretty nicely (if I do say so myself!) so I've listed it for sale, but at a discounted price seeing as it was my first one. It's an Ozzy Osbourne bodysuit with studded shoulder panels and a sexy open lace up back, lacing in black ribbon. It's roughly a UK size 8/10 and currently for sale with measurements listed on my site. Following this I made the order for a Motorhead lace up bodysuit and my customer loved it and will hopefully be sending me some pictures!