I've been having such a hectic time lately, juggling sewing orders, making new things and doing a load of internet stuff for my website, I've barely had time to stop and do anything else, much in need of a day off I think :) But for now here are a couple of new tops from this week.
This first top is a one of a kind punk style studded denim vest top. It has a lace up front fastening which can be adjusted to fit and is decorated with studded strips of faux leather, star print and wet look, with a studded mini pocket on one side. The back features crossover faux black leather straps studded with silver pyramid studs. I think this is a first, as it's already sold. Dont think I've ever sold something before I even got a chance to write about it, but hey, wanted to show it off anyways!
Stars and Studs denim Punk Vest Top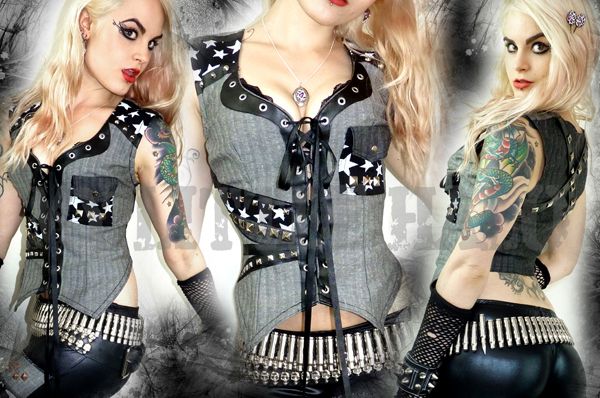 This top is available handmade to fit many sizes! It's quite similar to one of my one of a kind tops that had a lot of positive feedback and also disappointed people who wanted it to be available in more sizes. Well this one I can make to fit up to a bust of 48 inches! Yes that's right, I even made it available to plus sizes too :) It's made from black wet look with a gathered bust and antique brass look studs. The main body is black spotty semi see through lace with black faux leather studded shapes on the front. The back is plain black wet look. Oh and the strap is halterneck to give a flattering shape to the chest ;)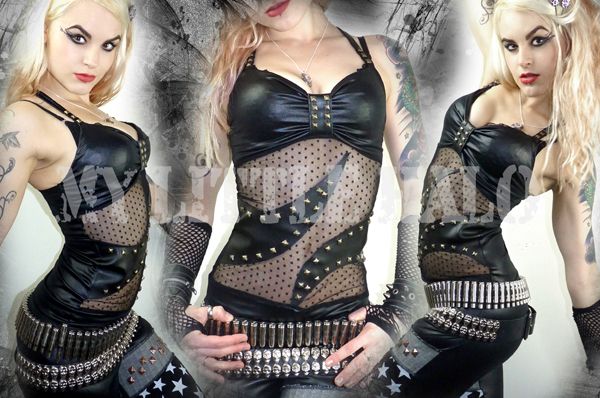 The last pic is a close up shot of the top and me wearing my new leopard print hearts locket and hair pins from Glamasaurus Online Store. I wrote about her shop in a post recently and again I urge anyone reading to visit her shop RIGHT NOW! As her jewelery is just totally adorable and really original too! Love!!!!