More new-ish stuff! Well,...I say "new," but I'm so bad at keeping up to date on this that half of it is no longer all that new...But here are some pics anyways!
Hot Pink/Black Long Sleeved Gothic Lace Top
I decided to make some more long sleeved gothic tops in the same style as my top selling black gothic lace top but with some colour thrown in. First up I made one in hot pink stretch cotton with black lace center panel and sleeves with matching pink ribbon lace up. This top is also available made to measure in plus size.
When I posted it on facebook, I asked what colours my fans would most like to see and promised to make the colour with the most votes. And here it is...
Purple got the most votes, closely followed by red and blue, which I may also make when I next get some free time! :)
Black/White Comic Strip Hoodie Dress
Here's another (fairly) recent addition to my collection of long sleeved hooded dress tops in black and white comic strip cartoon print. Made to measure for regular and plus size.
And lastly here are a couple more pairs of studded leggings I never got round to posting....made with shimmery colourful lycra with cutaway panels filled with semi see through black lace and decorated with black faux leather and silver pyramid studs. Both are made to measure with a variety of different lengths to choose from.
Sexy Red Lycra/Lace Studded Leggings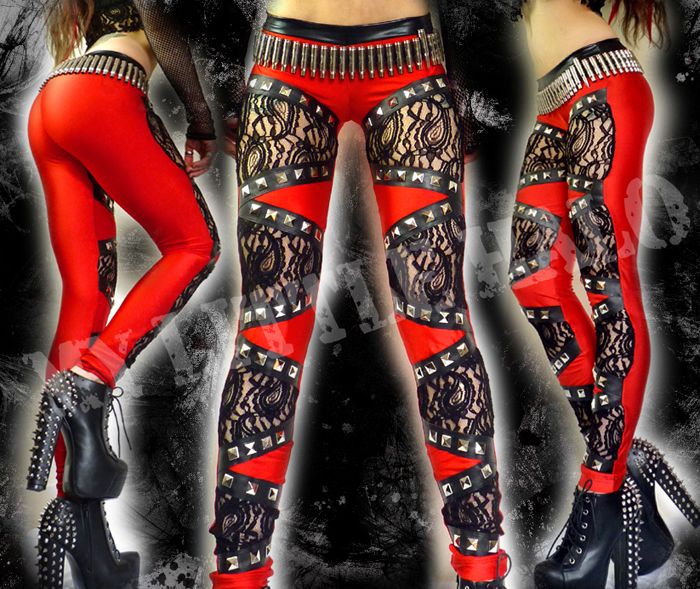 Teal Lycra/Black Lace Studded Leggings