I'm back to show off the new and improved denim rocker chick corset dress that I've been working on. This one has a fitted denim body in semi stretch pale denim with zipper fastening at the front and black faux leather and metal D ring lace up front. The strap is a halter neck and the back of the dress features another corset style lace up panel with more faux leather and eyelets. The bust line is decorated with round silver studs and the skirt part of the dress is a gathered circle skirt in denim with layers of black tulle underneath. The skirt also features two leather and eyelet lace up panels. This dress is available custom made to fit your own measurements in both regular and plus size.
Denim Rocker Chick Corset Dress....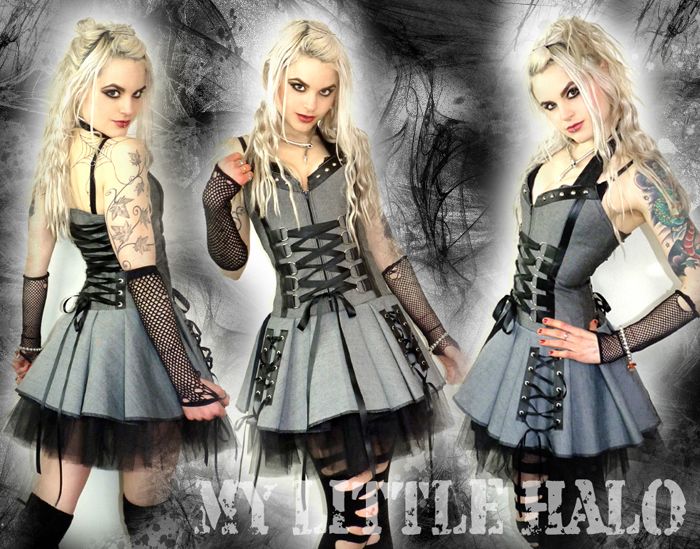 I also made another similar style dress in pink zebra print with a fitted upper body featuring lace up front panel with silver D rings. The halter neck strap is decorated with silver eyelet studs and the back of the dress has another lace up panel made from strips of black faux leather and more silver eyelets. The skirt is made with pink and black zebra print cotton and layers of gothic black tulle beneath. This dress is also available in regular and plus size and I've added it to my new plus size clothing section on my website.
Pink Zebra Print Corset Dress...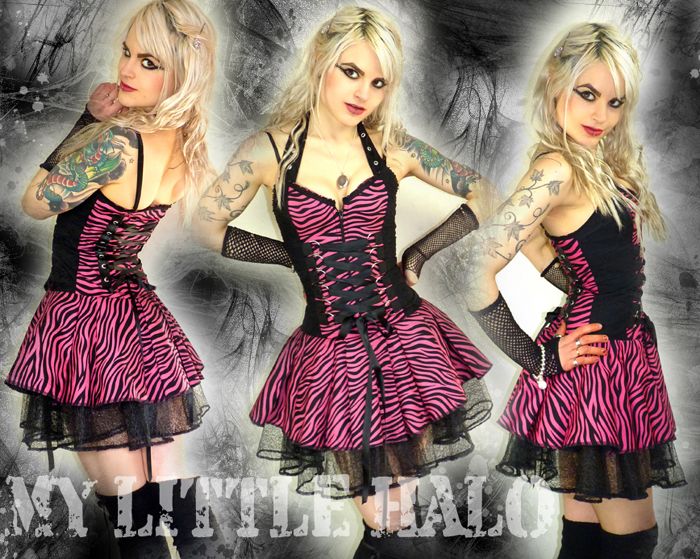 And lastly just for fun I decided to make another hooded dress top using a Guns N' Roses tee I was given. It's made with black cotton and features Guns N' Roses Design on front and back, with black and grey stripey sleeves, black lined stripey hood and decorative panels of black and grey stripe on the front. It's a one of a kind item fitting roughly a UK size 8/10 and the actual measurements are displayed in the product listing in the one offs and custom clothing section of my website.
Guns N' Roses Hooded Dress Top...