Here are some dresses I've been working on over the past month or so :)
Guns N' Roses Studded, Lace up Mini Dress
A sexy, studded mini dress made with a Guns N' Roses Appetite For Destruction t shirt, with black leather look moulded and padded cups, decorated with a mix of pyramid, round and star shaped silver studs. The dress features a faux leather studded halter neck strap and decorative red ribbon lace ups on the hips. It is a one of a kind mini dress in a size 8/10 only. Full details can be seen by clicking the image.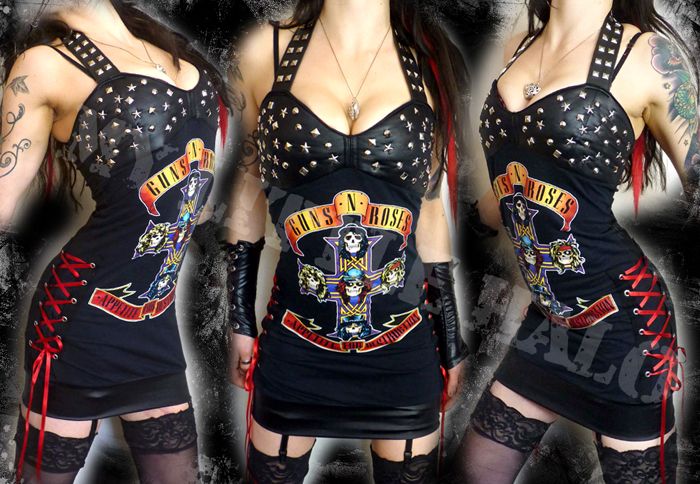 Studded Motorhead Lace up Mini Dress
Black and white Motorhead mini dress featuring 'Ace of Spades' design with adjustable lace up sides running down to the hips and studded faux leather shoulder panels. This dress was one of a kind and has already sold.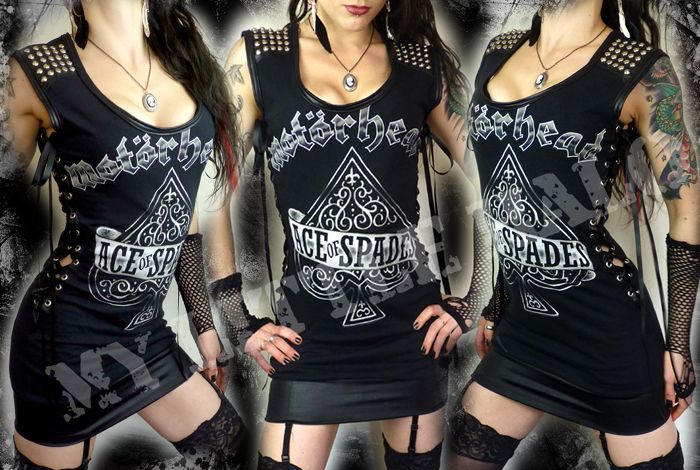 Studded Pantera Mini Dress
Another studded mini dress made with a Pantera t shirt, with moulded and padded wet look bra cups, studded with large silver pyramid studs and faux leather cross over straps, with rows of small silver studs.
Sexy Black Studded Mini Halter Dress
I decided to make a plain version of the band mini dresses in black stretch cotton with padded wet look, studded cups and studded halter neck strap, with wet look hem. It is available made to measure from the Strappy Dresses & Mini Dresses section of my website.
Fluorescent Green Stripe Hooded Dress Top
Since it's getting colder I thought I'd make a couple of new hoodie dresses for casual wear which go down well this time of year! The first is made with stretch black cotton with strips of fluorescent green and black stripey fabric criss crossing across the front, matching stripe panels on the sleeves and cuffs, with big black hood lined with more green stripe.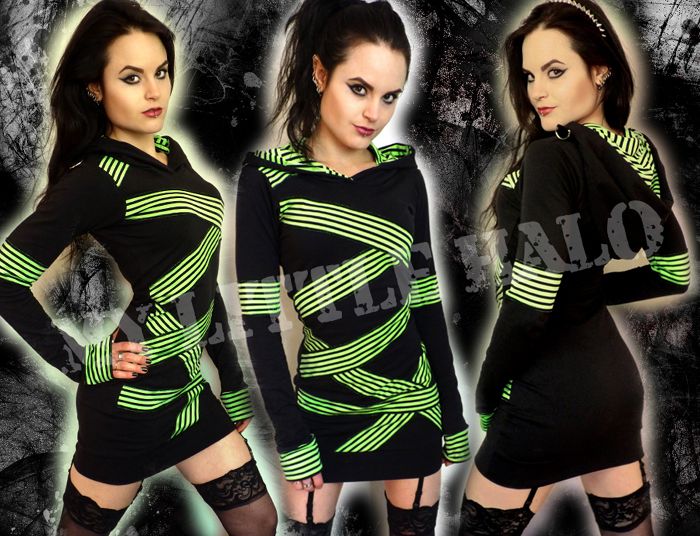 And another hooded dress top in black cotton with panels of grey leopard print jersey on the front, back and sleeves with leopard print lined hood and silver D rings on the shoulders. Both hoodie dresses are available made to measure for regular and plus size from the Long Sleeved Tops category on my site.