Here are some more rock and heavy metal band leggings I've made over the past month or so. Most of them were one of a kind pairs of studded leggings and have already sold but I have been taking constant requests for custom pairs of band leggings so dont hesitate to get in touch if there's a particular band you fancy as leggings!
Black/Green Pantera Studded Leggings
This is my favourite pair. I made these studded Pantera leggings with black wet look and a blue/green "Far Beyond Driven" t shirt, cutting out panels and filling them with black fishnet and decorating them with lots of black faux leather and silver studded with a mini lace up panel on the calf, lacing in white ribbon, with Green Pantera text at the back.
Black/White Motorhead Studded Fishnet Leggings
As my first pair of Motorhead Leggings were so popular I decided to make a second pair, they are made with black leather look and wet look lycra with large Motorhead text running down the right thigh and the boarhead logo on the left, thoroughly decorated with a mix of rounded and pyramid studs with see through fishnet panels and super sexy open lace up backs, lacing in black ribbon.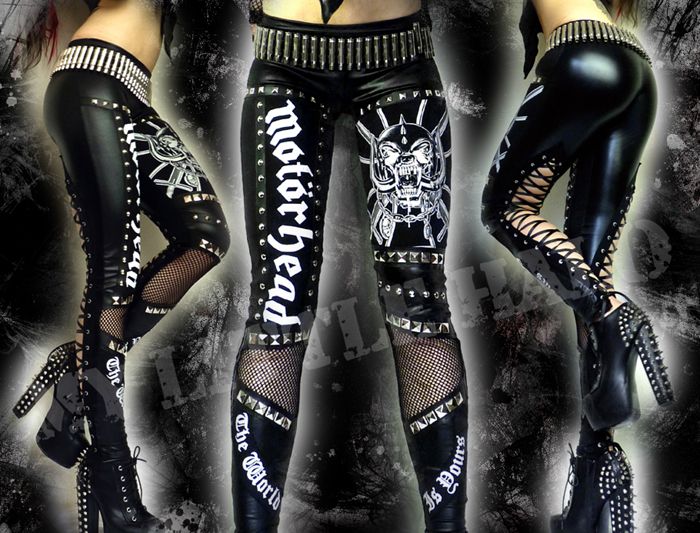 Sexy Black/Red Wet Look Motley Crue Leggings
I made these sexy Motley Crue leggings with black wet look and panels of red fishnet, with Motley Crue logo on each hip, studded with rows of small silver pyramid studs and small round studs lining the fishnet panels on the calves. This pair is currently still for sale in a size 8/10 from the Unique Rock Leggings category on my website.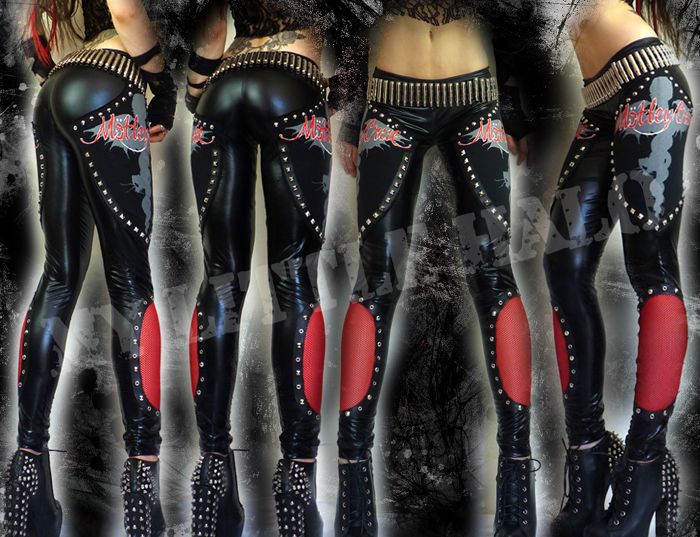 Red/Black Megadeth Studded Lace up Leggings
Studded Megadeth leggings in wet look with strips of red and black studded faux leather, with open panels of red fishnet, with black ribbon lacing up with large silver studs.
Black/Blue Motley Crue "Time For a Change" Leggings
And lastly, I made these black and blue themed Motley Crue leggings a while ago but never got round to posting them. They are made with black leather look lycra and a reconstructed "Time For a Change T shirt" with studded fishnet and lace up panels and a mix of pyramid studs, round studs and silver star shaped studs.