This week I had fun making some more new stuff! First up is a pair of super sexy pair black and gold wet look studded leggings, featuring panels of metallic gold lycra and studded black faux leather with gold pyramid studs and rounded studs to match the lycra and plain glossy black wet look backs. I initially intended for these to be a one of a kind pair of leggings as I just wanted to use up the last of my gold studs, but since they got so much love on facebook I decided to stock up on the studs and make them a repeat item available custom made to fit. So I've listed them as coming soon.
Black/Gold Wet Look Studded Leggings...
I also started work on a new dress design idea for a denim corset dress as a lot of the corset dresses on my website are very old and outdated so I'm planning on replacing them with newer much better things! Anyway I liked how it turned out but wasn't happy enough with the technique I used which was more time consuming than I would have liked for a dress that I plan to make as a repeat item, so decided to re-think it a little before releasing it and chose to list this one as a one of a kind item of clothing. I was more than a little pleased to see that it sold almost the instant I posted the image on my facebook page and I have now re-designed the dress in a similar style and am confident that people will like it just as much, if not more :)
With the original corset dress I was going for a rocker chick style look with a mixture of toughness and cuteness rolled into one. It was made with a fitted denim body using semi stretch denim for comfortable wearing and the front features a halter neck strap, zip fastening and black faux leather with silver eyelets and lace up front. The back also features a lace up panel with black ribbon and the skirt part of the dress was made of of two tiers of denim and black lace in gathers. Lastly I added some eye studs to the strap and a couple of silver studs on the front, just to add a bit more excitement.
Lace Up Denim Rocker Chick Style Corset Dress
Lastly I thought I'd challenge myself to making something new from fabric scraps which is always fun as I get to kill two birds with one stone by making a bit of a dent in the ever growing pile of fabric that is starting to consume my work space and I (hopefully) end up with something cool too! At least this time I did anyway! I love these one of a kind leggings, they are made with black lycra which is super snug and moulds to fit the body like a glove, with cut away panels filled with black fishnet and panels of black wet look. The front is decorated with black strips of faux leather studded with an assortment of various silver studs including round studs, star shaped studs and large pyramid studs. Yet again I was mega chuffed when they sold the instant I posted them to facebook!
One of a Kind Black Fishnet Studded Leggings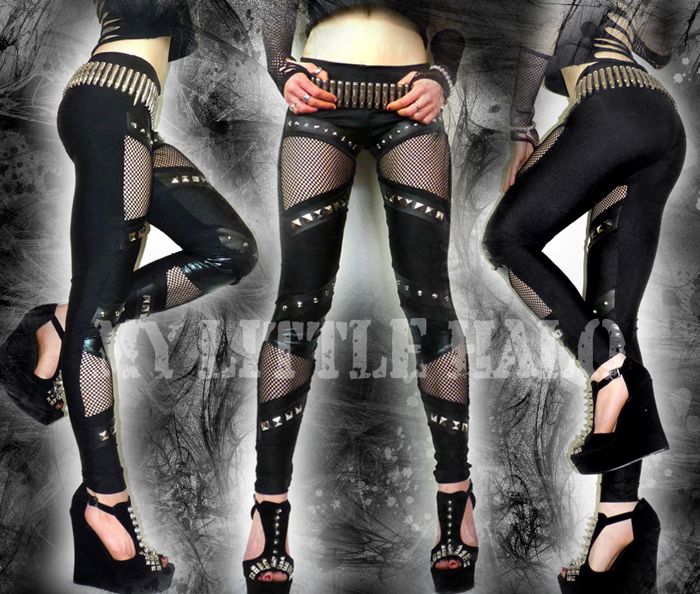 That's all for now but I will be back shortly to post about the new denim corset dress I've just finished and hopefully a couple more things I have in the pipeline!