So this post is a little bit delayed but here are a few more pairs of
Iron Maiden leggings
I've been working on recently...
Iron Maiden "The Trooper" Studded/Lace up Leggings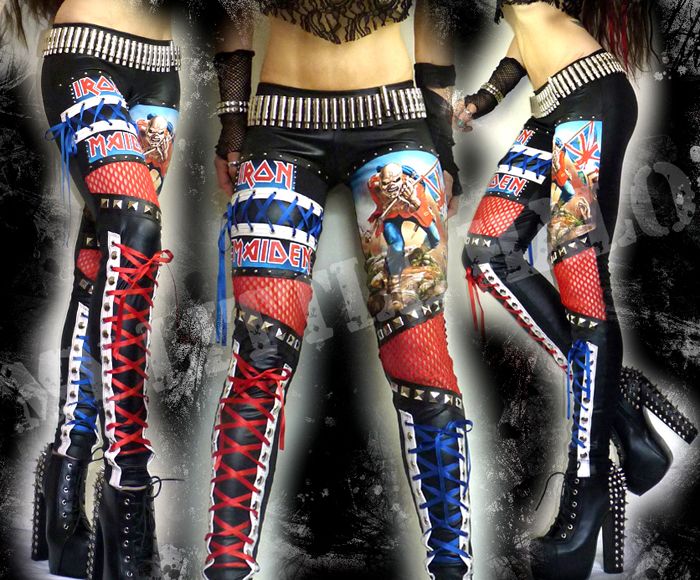 Another one of a kind pair of studded Iron Maiden rocker chick leggings I made using a Trooper t shirt...I decided to go with the red and blue theme of the Union Jack flag that Eddie is holding in the image as well as the text, so I added some panels of red fishnet and long lace up panels reaching from the ankle up to knees, lacing up in red and blue ribbon with lots of silver studs and another mini lace up panel joining the bits of text on the thigh, lacing up in blue. The main fabric is sexy black leather look lycra and the backs are plain black. They are one of a kind and still available to buy from the One of a Kind Rock Leggings part of my website.
Iron Maiden "Killers" Red/Black Studded/Fishnet Leggings
I also made this pair of "Killers" rock leggings with red lycra front and black wet look backs, Iron Maiden text on the right hip and large Eddie image on the left thigh. In keeping with the asymmetry, I added a long lace up panel on the left calf, studded with large silver studs and some panels of black fishnet on the other leg with some silver studded black faux leather in between. This pair have sold but I'm happy to take custom orders-I've already had orders for custom designs based around both these pairs!
Iron Maiden Black & Red Heavy Metal Studded Leggings
This pair is probably my favourite, and the most time consuming! I love the crossed guns logo so went with that on the thigh, fitting below an open lace up panel, showing a bit of skin and the Iron Maiden text on the other leg, surrounded by silver pyramid studs. I wanted to keep them mainly black and silver but also to tie in a bit of red to match the red of the text, so added a red lace up panel on the calf as well as a whole bunch more silver studs. To make them a bit more exciting at the back, I put in some long panels of red ribbon that lace up right to the top of thigh which I think looks pretty sexy. This pair is still available as a one of a kind design, view them on my website by clicking the image!
Custom Iron Maiden "Final Frontier" Studded Leggings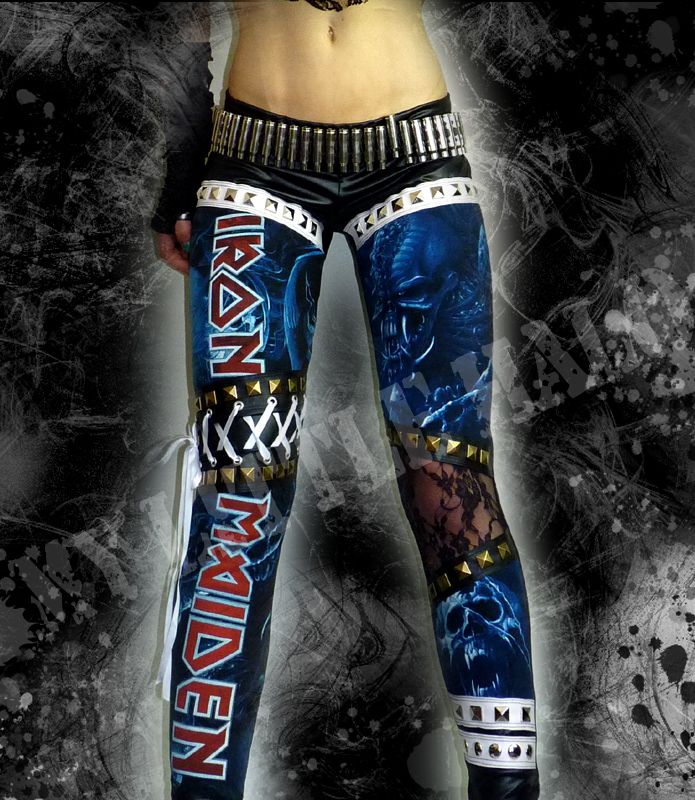 And lastly, here's a quick photo I took of a pair of custom leggings I made using a Final Frontier T shirt the customer sent me. She wanted them in the same style as the Fear of the Dark leggings I made a while ago, with the large "Iron Maiden" text going down one leg with a lace up panel stitching the writing together in the middle and images from the T shirt on the other leg, mixed in with some black lace and antique look pyramid studs. I loved how they turned out, hope she does too....and just as a recap, here's the original pair...