So I swear since I posted that first pair of Iron Maiden leggings on facebook, I've spent pretty much ALL my time replying to requests for more pairs in different sizes and for custom pairs with various bands and searching for suitable rock and metal band t shirts to make them with! They are so much fun to make but do take me quite a long time and the cost of having to buy the band t shirts to work with means that they are quite expensive to make as well :( Anyway I'm enjoying myself too much to stop, so I made a few more things using band t shirts this week!
First I made some black and white wet look Motorhead leggings, with large boar image on the left thigh and "Motorhead" text on the right, surrounded by lots of silver studs. On the lower legs I cut out some triangular panels and filled them with black lace and surrounded them with black faux leather and mix of round and pyramid shaped silver studs. They are currently available in a size 8/10 but the specific measurements are all listed with the description under the One of a Kind Rock Leggings section on my website.
Motorhead Lace & Studs Wet Look Leggings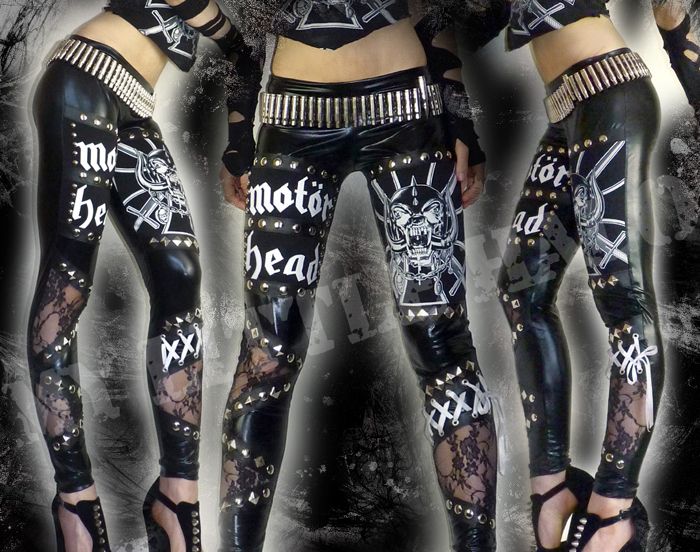 Next I used the Iron Maiden "Killers" T shirt to make another pair of Iron Maiden leggings, this time using red lycra for the front and black wet look for the back. I used the "Iron Maiden" text on the upper right thigh and the image of Eddie on the left and decorated them, as usual with lots of silver studs. I cut out some panels to fill with black fishnet on the lower right leg and added some faux leather and more studs and to keep in with the asymmetry of the design, I added a long lace up panel on the lower left leg, lacing in black ribbon. This pair sold right after I posted them on facebook so I will be making more soon!
Iron Maiden Red/Black "killers" Studded Leggings
And lastly I made this sexy WASP top from a reconstructed "Babylon is Burning" T shirt with winged skull design on the front. It has low cut front with mini lace up on the bust in white faux leather with black ribbon and matching white faux leather down the sides with adjustable lace up fastenings. It is roughly a size 6/8/10 with the full measurements listed under the One Offs and Custom Clothing" part of my site.
Black/White Wasp "Babylon is Burning" Lace up Vest Top