I've been making a few more new things this week. First there's another corset skirt in navy vintage look tattoo print cotton, which a friend suggested would be cool. So there's the usual stretchy cotton waistband with rah-rah style lower half and adjustable navy ribbon corset style lace up front.
Then we're got an elegant black fishtail skirt which goes in at the knee and splays out at the bottom. The skirt has an elasticated waistband and is made from strechy black velour. I actually really love this skirt, it's very comfortable and looks pretty. And the bit where it goes in at the knee isn't so tight that it makes you look stupid when you walk (as some skirts do), which is always a bonus...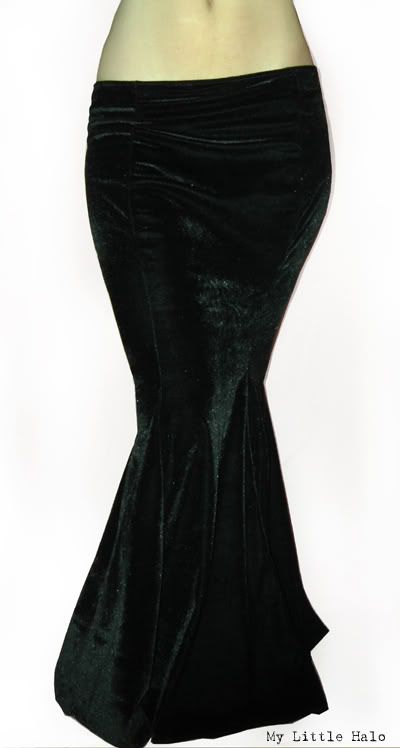 My new dresses consist of a cute gothic black satin corset dress and a black and white beetlejuice stripe style corset dress. They both have halterneck straps, zipper fastenings at the back, two tiers of fabric, 3 tiers of black netting, decorative lace up corset style detail and decorative black bows at the front. They are both roughly 27" long from bust to bottom of the dress and finish about half way down the thigh-just above the knee.