I'm wondering what people prefer: something completely unique and individual to them that no one else has OR to have their choice of alternative clothing made especially to fit them but is a repeated design? What do you prefer?! This week I made a couple new pairs of leggings. One is a custom one of a kind pair of leggings and the other is a repeated design available in regular and plus size.
The custom pair are made from black leather look lycra with patchwork panels of denim studded with antique look rust coloured studs, star print and black wet look lycra. They are a UK size 8/10.
Stars & Studs Patchwork Rocker Leggings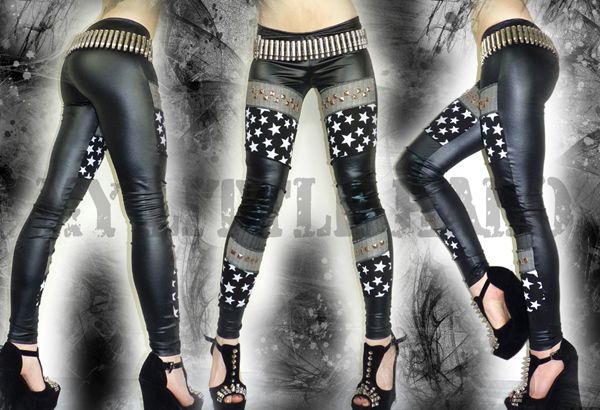 Now these leggings are available custom made to fit any size up to a hip of 44 inches. They too are made from black leather look and feature sexy black lace side panels, which lace up with black ribbon and tie into bows at the calf.
Lace Up Leather Look Leggings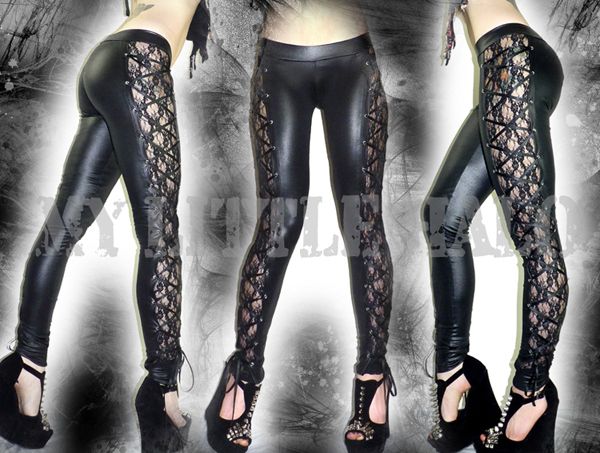 While I love making unique one of a kind pairs of leggings as they are special and individual to the person that takes them home, I also love being able to custom make my leggings to fit, so that the customer knows they will have a good fitting pair even if they are between sizes and especially for plus size ladies who struggle to find any unique and fun pairs of leggings that are available in plus sizes.
I'd be interested to hear anyone's thoughts on this, would you rather something no one else has? Or something that is made especially with your shape and size in mind, but isn't a unique design?