Last week I made a few new bits, including a matching glam rock style vest top and leggings from the awesome textured denim fabric I used to make the one of a kind top in my last post. The top is a fitted vest top in this semi stretch textured denim, decorated with spike shaped pieces of black faux leather on the front and back which are studded with silver eyelets. The front features a zipper fastening that opens right out, more decorative faux leather strips and silver rounded studs either side of the zip. On the back is a lace up panel which is mainly for show but can be adjusted somewhat. It will be custom made to fit your own measurements and is available from the Glam Rock & Biker Chick Clothing section of my website.
The spiked hairband and skull locket are available for sale from Glamasaurus who has a whole range of gorgeous necklaces, bracelets, brooches, earrings and more!
Denim/Leatherette Studded Spikes Vest Top...
The matching leggings are made from black leather look lycra with angular panels of textured black and grey denim and more swirls and spike shapes cut out of leatherette and studded with silver eyelets. I think these are one of my favourite pairs of leggings I've made, all the layering on the front makes them thick and robust feeling, while the backs are still stretchy but snug. They are available custom made to fit from the tights and leggings section of my site.
Textured Denim & Faux Leather Spikes Leggings...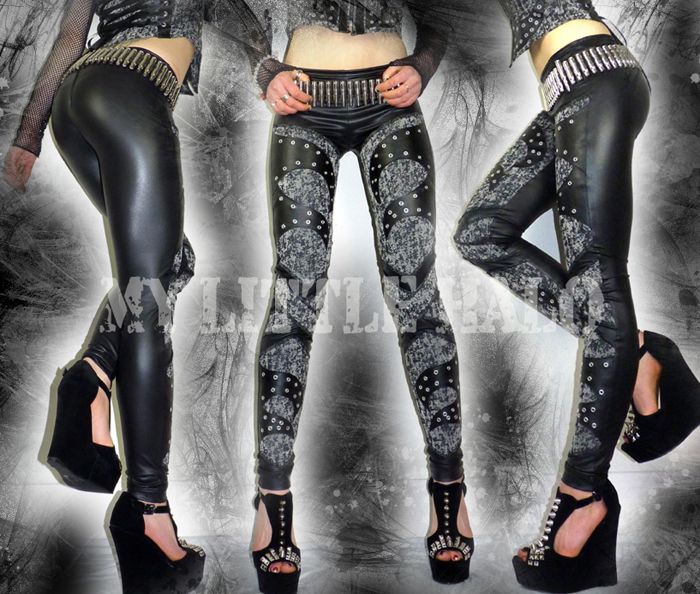 And lastly I had a new custom order to make a hooded dress top from a jack skellington tee that she sent me. It's made with stretch black cotton with purple jack logo and panels of purple on the front and back, purple hood lined with black and purple cuffs on the sleeves. I really enjoyed making this dress top and was pleased with how it turned out. Simple but super cute!
Custom Black/Purple Jack Skellington Hooded Dress Top...