Rock & Heavy Metal Band Studded Leggings and Tops
My first pair of Iron Maiden leggings sold within a few minutes of listing them and I've had tons of requests for more pairs so I made these from a Fear of The Dark T shirt. The main body is made with black leather look lycra, with large Eddie design on the left thigh with a cutaway panel filled with black lace on the lower leg and an assortment of silver and antique look gold pyramid studs on faux black and white leather. The right leg features "Iron" on the thigh and "Maiden" on the calf, with mini lace up panel in the middle giving the appearance of being stitched together. This pair also sold within a few minutes of listing them on my website so I plan to make some more very soon.
Iron Maiden Fear of The Dark Studded Leggings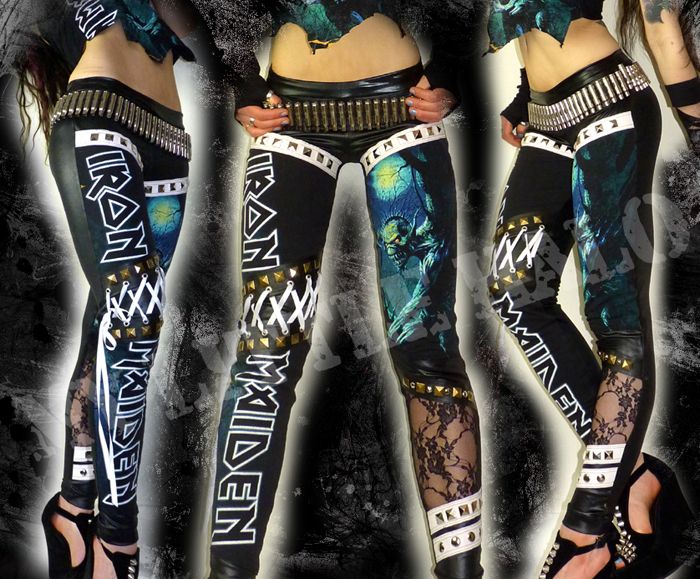 and here's the original pair...
Iron Maiden Piece of Mind Eddie Studded Leggings
Unfortunately I can only make these one of a kind pairs of leggings in small sizes as I have no one else to model them, but I am more than happy to take custom orders from anyone who would like to send me a band t shirt to work from.
Following the success of these I thought I'd make some studded vest tops from rock band t shirts. The first one I made was this Motorhead black vest top, made with a reconstructed Ace of Spades t shirt. It has large silver studded faux leather panels on the shoulders and adjustable lace up sides with more faux leather and lacing with black ribbon. The front has a pointed cut to show off the hips and the top has a higher cut at the back, great for showing off a lower back tattoo-something I like to incorporate into a lot of my designs! This one also sold right away.
Motorhead Aces of Spades Studded Vest Top
And lastly, this one I made today and have literally just finished editing the photos for! A Guns N' Roses studded lace up top with classic logo featuring roses and guns, with white faux leather lace up sides featuring black eyelets and black ribbon, with matching white faux leather studded panels on the shoulder with round black studs! It is largely adjustable due to the lace up sides and will fit roughly a UK size 8/10/12 but the specific measurements are listed in the product description in my one offs and custom clothing category.
Guns N' Roses Studded Lace up Vest Top