Right, I'm in dire need of purchasing a new sewing machine, since my main machine has died and now I'm running on my back up machine, with nothing to back that up! So...I've been adding tons of great items to my sale items section today. Unfortunately they are all roughly the same size as they are the originals I made to photograph, however if you're about the same size as me then it's your lucky day! The sizes are approximate and all measurements are listed in the product descriptions, viewable by clicking on the photos.
Sexy Little Black Studded Rock Chick Dress SIZE 8/10
First off-this dress I initially made for myself to wear out on New Year's Eve however I caught the Flu the day before and so ended up spending my new years eve tucked under a blanket on my mum's sofa, wallowing in self pity (and snot). Dont worry the snot, was kept well away from the dress! Anyway, sadly since then I haven't really been to any events worthy of dressing up and so this dress has just been sitting in my wardrobe and now I'm in need of money I've decided to part with it. It is made from thick ponte roma jersey which is stretchy and snug. It has a front zipper fastening which is reinforced with steel boning and the front is decorated with pyramid studded faux leather under the bust and running down the center. And there are a couple of shoulder panels with more studs on too. I fitted a thick stretchy band around the bottom of the dress to keep it from rising up, (which is often my insecurity when wearing mini dresses like this!)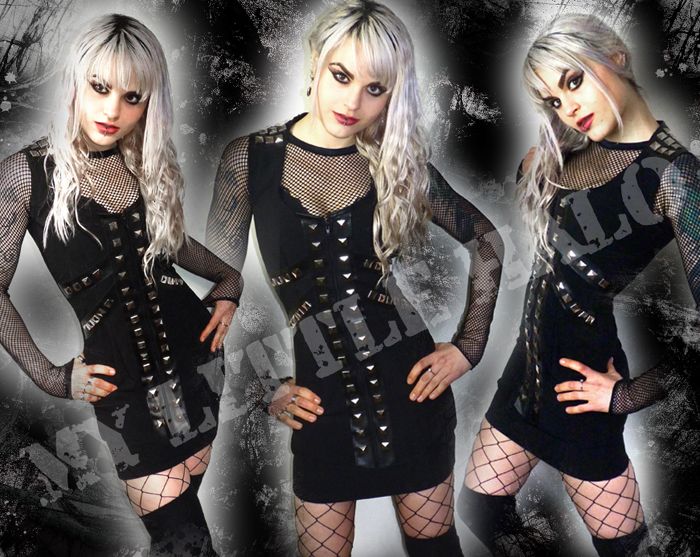 Pink Zebra Print Open Lace up Sides Pencil Skirt SIZE 8/10
A super sexy pencil skirt in hot pink zebra print overlayed with black lace, with daring open sides which lace up with black ribbon and can be adjusted to fit. It has an elasticized black waistband so can be warn high or low depending on taste.
SALE PRICE: £24.99 (Reduced from £34.99)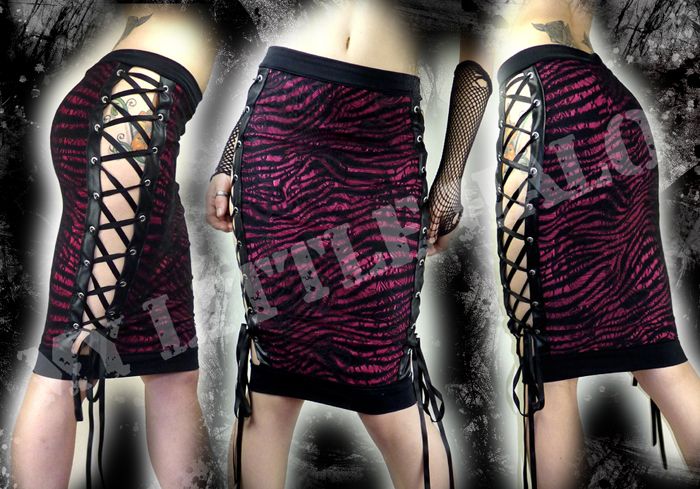 Leather Look & Leopard Print Lace up Pencil Skirt SIZE 8/10
A high waisted pencil skirt made with black leather look and velvety leopard print side panels with black ribbon lace ups over the top and elasticized black waistband.
SALE PRICE: £24.99 (Reduced from £35.99)
Fluorescent Green Stripe & Star Print Leggings SIZE 10/12
These leggings are completely unique and one of a kind as I made them using up the remains of some discontinued fabrics I had left over. Fluorescent green stripes and black and white star print panels on a black cotton background with plain black backs.
SALE PRICE: £19.99 (Reduced from £32.99)
Wet Look & Lace Studded Rock Leggings SIZE 8/10
This is one of my favourite pairs of studded leggings I've made and definitely one of the most popular! They are made with sexy black wet look lycra with cutaway panels down each leg, filled with pretty black lace and encased with black faux leather strips which are decorated with silver pyramid studs.
SALE PRICE: £29.99 (Regular price: £42.99)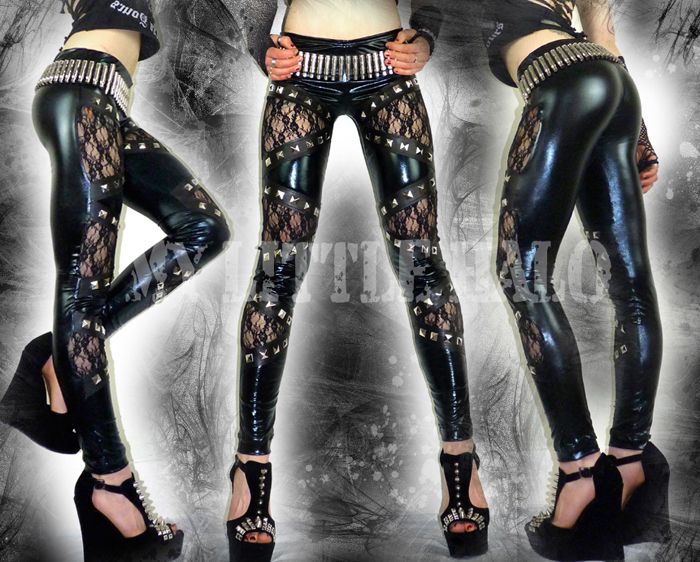 Pink Tartan Corset Dress SIZE 8
I recently added a hot pink version of my top selling tartan corset dress to my collection and this is the original. It has a fitted upper body in pink tartan and black cotton/lace overlay with black halter neck strap, front zip fastening and silver metal D rings, lacing up with black ribbon at the front. The skirt part of the dress is formed with 2 tiers of gathered pink tartan and black floral lace.
SALE PRICE: £39.99 (Regular price: £64.99)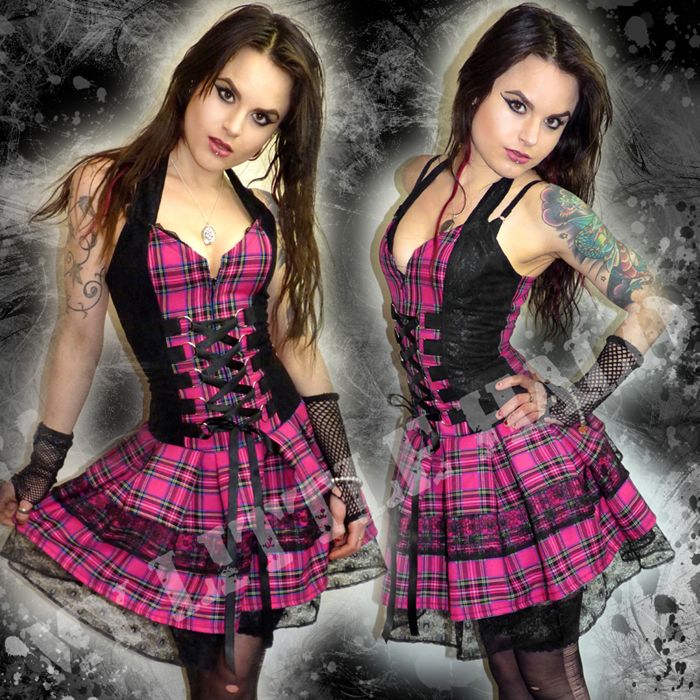 Black & White Zebra Print Lace Shrug SIZE 6/8
And lastly-I love this little shrug but unfortunately I can no longer get hold of the fabric so this is the last one. It's a long sleeved tie up shrug top in really soft and light black/white swirly zebra print mesh/lace fabric. I like tops like this that pull the waist in and emphasize the bodies natural curves.
SALE PRICE: £14.99 (Regular price: £23.99)