I made a couple new dress tops this week. Been a while since I had time to make anything new! One will be a regular item for regular and plus size and the other is just a one off. The first is a black cotton hooded dress top with panels of pink glitter sparkle leopard print on the bust and back and a leopard print pocket on the front. The hood is also made with pink leopard print and is lined with black cotton, as well as matching pink cuffs on the sleeves. Super comfy and the panels on the front and back give it a bit more warmth than just wearing a normal top. It's now available for sale from the long sleeved dresses section of my website.
Pink Leopard Sparkle Hooded Dress Top..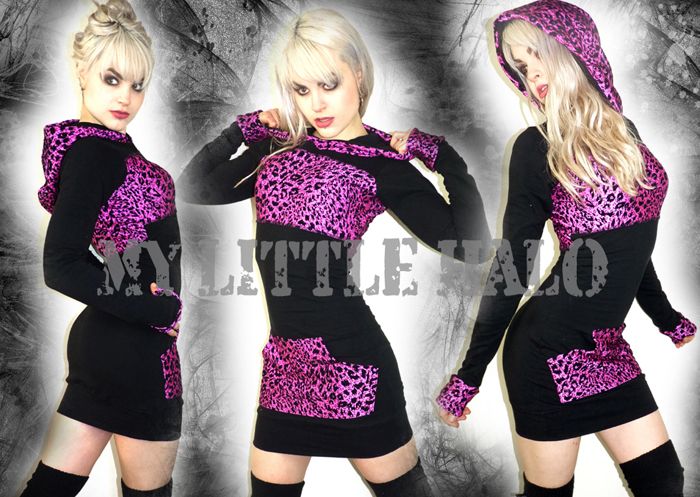 The other top I made was intended to be a regular item but it took me so long I don't think I can afford to list this as a regular item for a reasonable price, due to the time involved, so I figured I'd just sell it as a one off. It's a hooded dress top made with black and purple soft cotton lycra, with alternating panels of colour in stripes. The panels are overlayed onto the black base, giving it extra warmth and thickness. The front features a black and white star print pocket, star print hood lined with black cotton and matching star print bottom hem. It's available in roughly a UK size 8/10 and the exact measurements are listed on my website under the one offs and custom clothing section.
Black/Purple & Star Print Hooded Dress Top