Lately I've been working on a ton of new ideas. Firstly I asked my fans on facebook which was their favourite pair out of some of my latest one of a kind leggings and said I would make a similar pair to the one with the most votes into a regular item, that will be available custom made to fit your own measurements. So these were the choices....
And the pair that got the most votes was B, so here is the new design I came up with and this pair is available made to fit all sizes up to a hip of 44". Obviously I couldnt sell design B as a "one off" and then copy it as it would no longer be unique, so these are similar rather than the same : )
Asymmetrical bleached denim studded rock leggings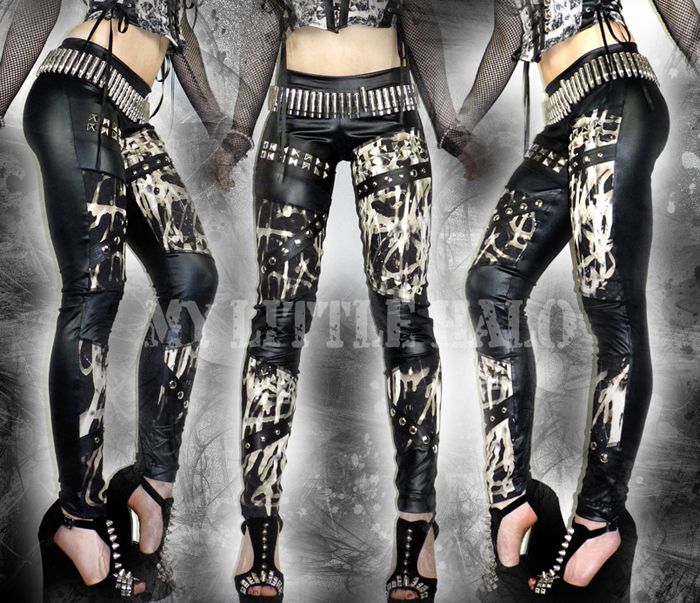 I also made a new biker chick inspired studded vest top in white leatherette with front zipper fastening that opens right out, decorative black round studs on the bust and black leatherette panels, lacing up with black ribbon on each side and at the back. The bust, sleeves and bottom hem are also finished with black leatherette. This top is available up to a bust of 40" from the Rocker Chick, Biker and Glam Rock Tops section of my website.
White leatherette studded biker chick crop top
Next up is a new pair of unique studded rock leggings, made with black super sexy and glossy wet look lycra with panels of red denim, painted with black and with studded red and black leatherette, featuring a mix of silver pyramid studs, large round studs and small round studs. they are available up to a hip of 44" from the glam rock leggings section of my site.
Black wet look/red leatherette studded rock leggings
Next I made this pirate skull & crossbones print corset top with some scraps of this fabric I had left over. It's one of a kind and features an adjustable lace up front and back with white faux leather and black ribbon lace ups, decorative studded white panels on the front and black lace trim around the bust. The halter neck strap features a silver popper fastening which can be adjusted to fit. Due to lace up fastenings at both front and back, this top can be largely adjusted to fit roughly a size 8 up to a 12 but the full measurements are listed under the one offs and custom clothing section of my website.
Pirate skull & crossbones lace up studded corset top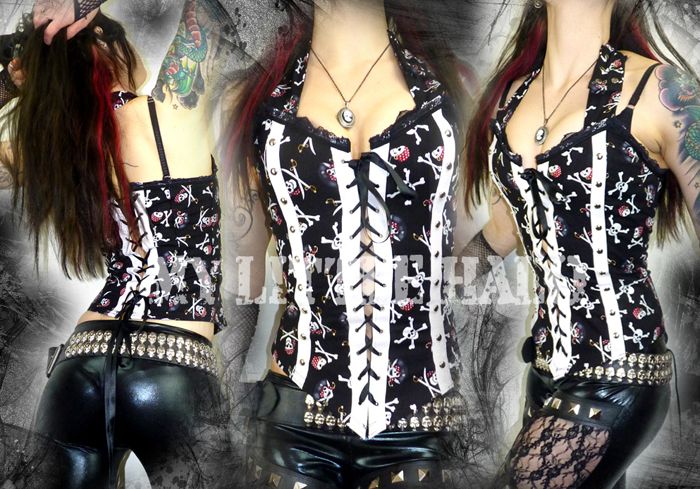 And lastly, I've had red skull patterned leggings on my website for years, but decided the pink looks quite pretty too, so I added them in pink : ) They are available in regular and plus size from the patterned, wet look and metallic leggings section.
Red and pink skull & crossbones patterned leggings