So following the high waisted hot pants, I thought I'd try some proper mini hot pants in denim which is the sort of thing I often like to wear. This is the first pair I made-they are bleached denim hot pants with front zipper and silver popper fastening. I added some faux black leather lace up panels down the side to make them more rocker chick like and added some loops so they can be warn with a belt. This is the first time I've attempted fitted denim shorts and I was so pleased with how they turned out that I put them on my website and they sold right away!
Bleached denim mini hot pants with lace up sides..
Here are the second pair of denim hot pants I made, they are made from the same textured denim which I bleached, they have a an adjustable lace up front fastening with silver eyelets and black ribbon lacing and small round silver studs on the front and on the back pockets. Lastly I added some decorative belt loops. I really loved this pair and decided to keep them for myself. I wore them out to Brighton last weekend and they were very comfortable and they fit so much better than my store bought shorts, they actually stayed up fine all day without a belt : )
I have an order coming in for a custom pair of denim/leather look trousers with a lace up crotch, so I wanted to have a bit of a practice with the leather look/denim combo, so I figured I'd try by making a hot pants version of the trousers to save fabric! The front is made from bleached black denim with adjustable lace up crotch and large antique brass look pyramid studs, the backs are plain black leather look with denim waistband and matching belt loops. This pair is still for sale in a size 8/10 and as they were a practice pair, they are on sale as a reduced price from my sale items section.
Bleached denim/leather look hot pants with lace up crotch..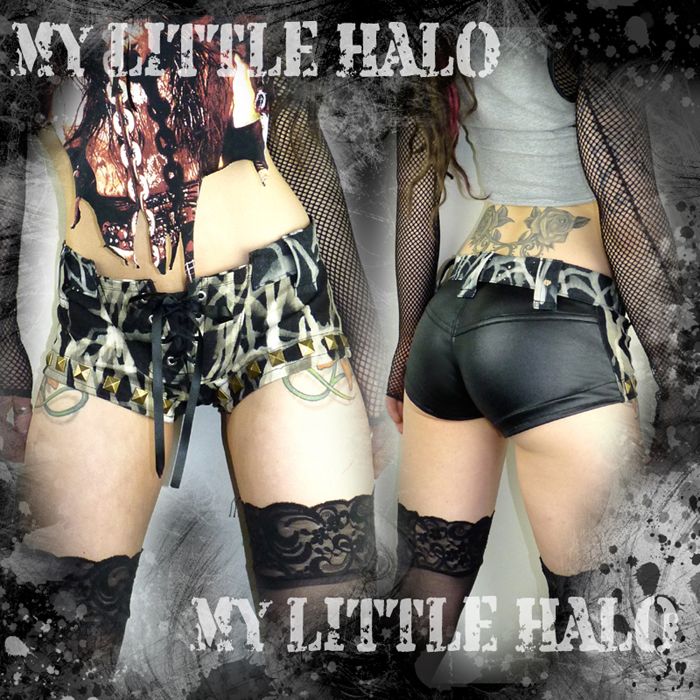 After I;d had enough of the shorts, I figured I might get into making some more fitted mini skirts as most of the skirts on my site are stretchy and puffy rather than tight fitting. I prefer fitted mini skirts personally but I never wear them as I dont have any that I like, so I dont know why I haven't made any sooner! This one is made from the same black and grey semi stretch denim, but with no bleach this time! It has a front zipper fastening and black faux leather lace up panels down each side at the front, with black faux leather studded pockets on the back and matching black belt loops all round. This skirt is now up for sale under the fitted mini skirts section of my site and it is available in both regular and plus size options, being custom made to fit up to a maximum hip size of 50 inches. I feel I havent been making enough items available for plus size lately as some things are just too time consuming and expensive to make for them to be profitable in plus sizes, but I plan to work on making a lot more items that are available to every lady, plus size or not : )
Black & grey denim/leatherette fitted lace up mini skirt with studded pockets..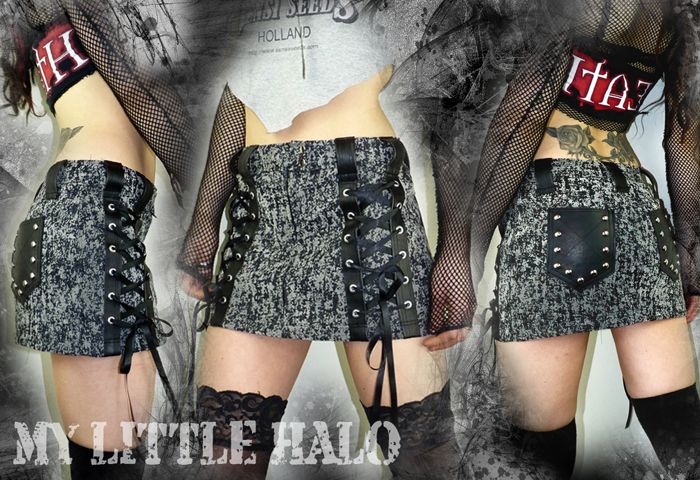 And finally, the one of a kind pair of metallic multicoloured leggings I made seemed to be well received on facebook so I found some nice shimmery metallic jersey fabrics, which I actually like a lot more and made a similar pair as a repeat item. They're not quite the same as the one off pair as they only have blue and purple, back and front and no silver, but I love the print of the fabric, it has a sort of worn effect where bits of black are showing through the metallic, I thought it was very pretty. So these are available for regular and plus size from the patterned, wet look and metallic leggings section of my site up to a hip size of 52 inches.
Unique purple/blue shimmery metallic leggings..
Now I've just about caught up on posting so will be back to show off more new stuff as and when! Bye for now :)