So I've still got a ton of new stuff from last week to post about...I decided to make some new hot pants as the fabrics for most of my old ones are no longer available. So my first pair were these... They are high waisted hot pants made from soft black ponte roma jersey, with front zipper fastening and decorative red faux leather curvy spike shapes on the front and back, which are studded with black round studs. I loved how they turned out and they have already sold as a one off.
High waisted black/red studded hot pants...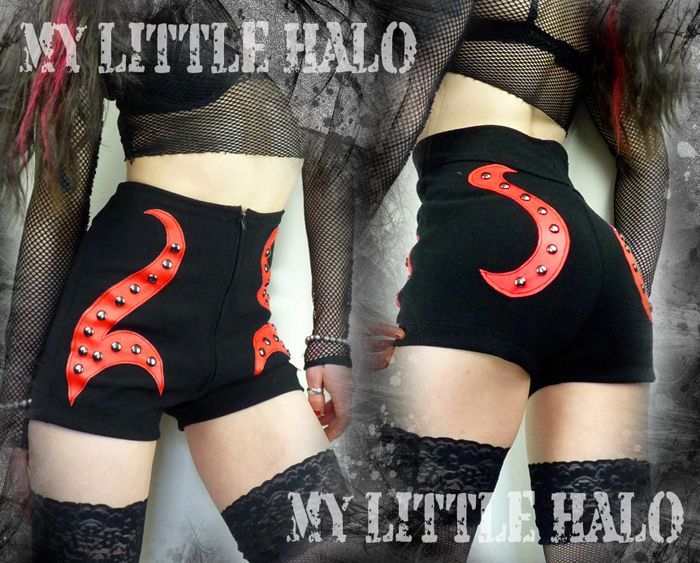 After they turned out so nicely, I made a couple more pairs of hot pants in a similar style to sell as repeat items. There's a red pair with black faux leather silver pyramid studded strips down the sides, and cute black studded pockets on the bum. And the second pair are black with white faux leather lace up panels on each side, with white ribbon lace ups and also featuring some pyramid studs. They are both available custom made to fit from the hot pants and shorts section of my site : )
Red/black studded high waisted hot pants..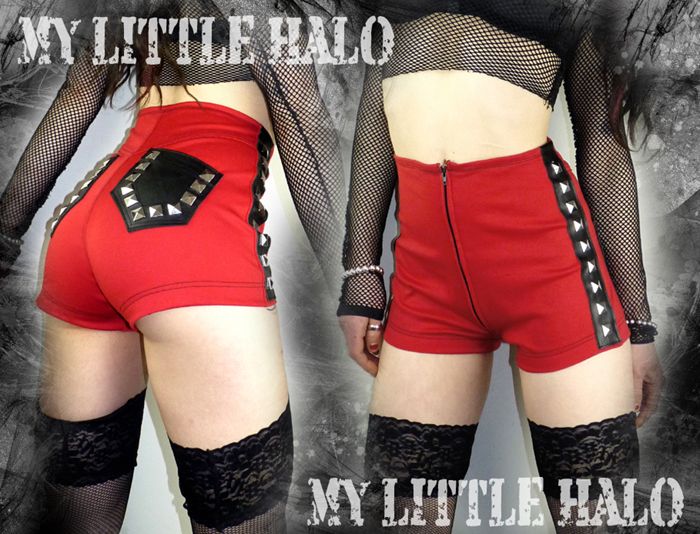 Black/white lace up high waisted hot pants...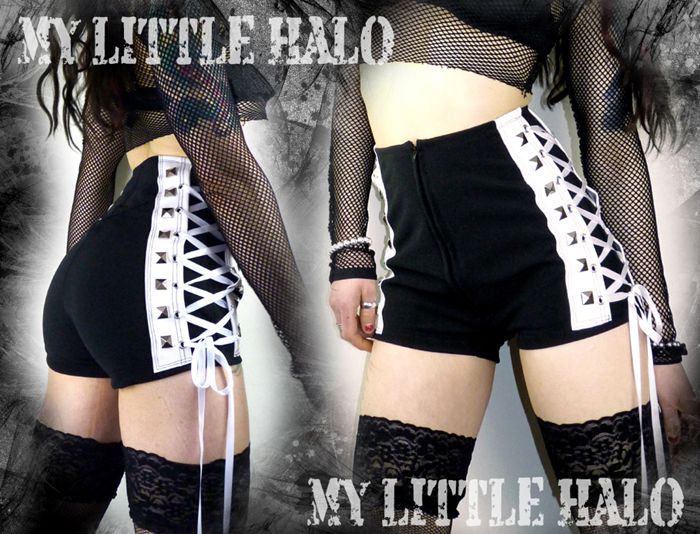 In between orders I've been trying to make use of some of my fabric remnants which have been piling up and starting to consume a lot of my work space and so I used some pieces of different coloured metallics to make these random metallic lycra leggings, which have blue and purple at the front and silver and purple at the back with black wet look elasticized waistband. Initially I wasn't sure how well they'd go down as they're a bit different to my usual style, but they seemed to get a lot of positive feedback on my facebook page so I think I might make something similar to sell as a regular item soon. These ones are roughly a UK size 8/10 and are currently listed in my sale section.
Unique random multicoloured metallic lycra leggings...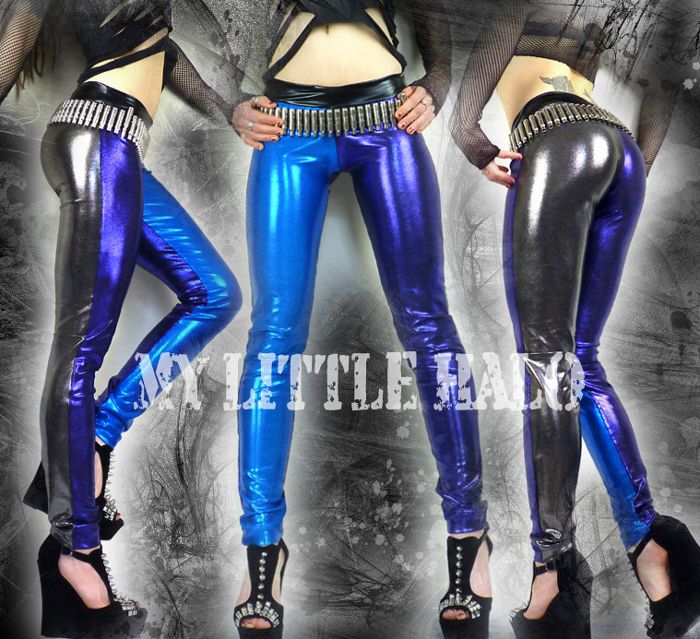 And lastly I made this new style gothic fishtail skirt, which I absolutely love the colouring of. It's made from jade crushed velvet which is stretchy and snug fitting down to the knee and splays out at the bottom with alternate panels of black lace to give double the size of the fan for the fishtail effect. Then I added an extra overskirt in the black lace that wraps round from the front and hangs long over one side and looks beautiful on top of the jade fabric. To hold all the weight of some much fabric up I added an extra wide black velvet waistband. This fishtail skirt is now available custom made to fit, in regular and plus size from the gothic fishtail skirts section of my site.
Black/jade velvet gothic mermaid fishtail skirt...