Here is some more of the one of a kind clothing that I've been working on lately. First is a pair of super unique leggings that I made with bleach and paint splattered textured grey denim, with cut away panels on the thigh and lower leg, with black faux leather studded detail and black ribbon lacing up the panels. The backs are made from stretchy black cotton so that they are easy to get in and out of as the denim is semi stretch but not as flexible as some of my regular fabrics. I really love how they turned out but they took me ages so I will need to rethink my technique before I make them a regular item. They are available in a size 8/10 with the full measurements listed with the product in the one of a kind unique leggings section of my site.
Bleach splattered studded denim lace up leggings..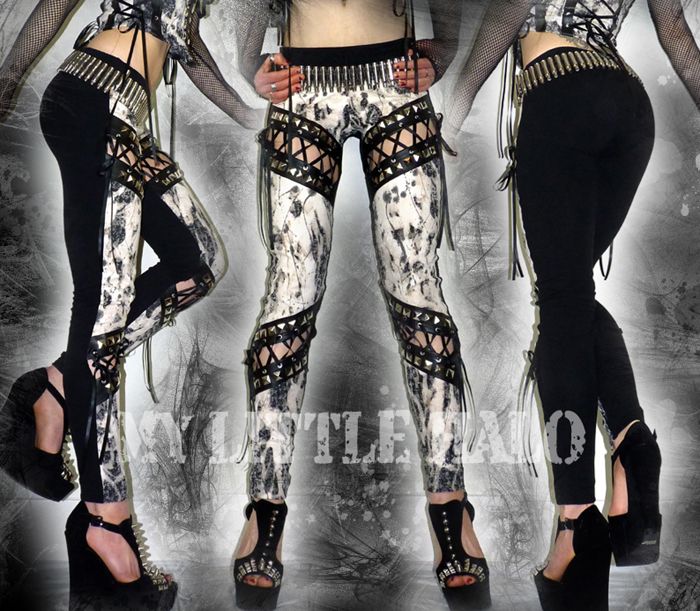 I recently realized just how much black I tend to use in all my clothing, so I thought it would be fun to make something without any black in it and I ended up with this studded lace up top. It's made with blueberry blue bleached denim and lots of white faux leather, with lace up front and side fastenings, meaning that this top can be adjusted to fit various sizes. The back also features more white faux leather with a lace up panel and cute silver star shaped studs and large silver pyramid studs decorating the front. The sleeves and bottom hem are bound with more white faux leather and lots and lots of white ribbon for all the lace up parts. It will fit a uk size 10 with all the lace ups fully closed and up to a size 14 with lace ups opened up.
Bleached denim/white leatherette lace up studded vest top...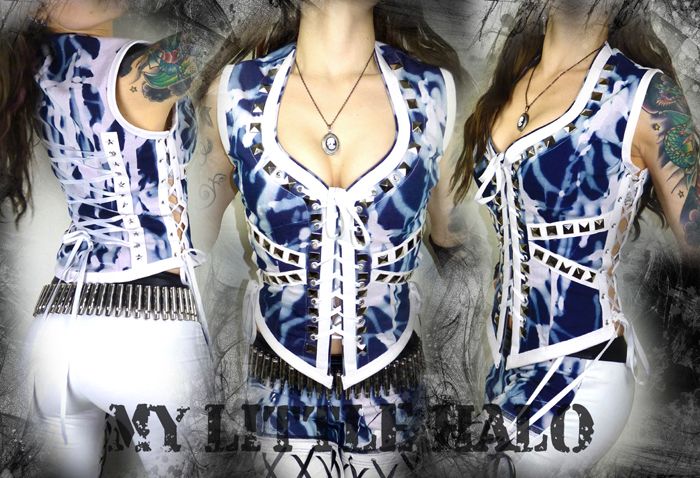 And lastly I made a matching pair of leggings in white wet look lycra with panels of bleach and paint splattered blueberry denim with white faux leather lace up panels, lacing up with black ribbon to match the black waistband and white faux leather studded strips. The backs are plain white wet look and lined with white cotton to ensure that they are fully opaque. The extra thickness makes them feel really sturdy and much more like proper trousers than some of my other leggings. They are around a uk size 8/10 with the measurements, as always listed in the one of a kind unique rock leggings category of my website.
White wet look and blueberry bleached denim lace up studded leggings...