Here's another new alternative summery dress in the same style as my previous post. It's a mini dress made with metallic silver lycra with black deep cut lace up panel on the front and black lycra finishing on the sleeves, bust and lower hem of the dress. I'm making it available to both regular and plus size and it can be found under strappy dresses and mini dresses. It will be custom made to fit your own measurements :)
Metallic Silver Low Cut Lace up Mini Dress....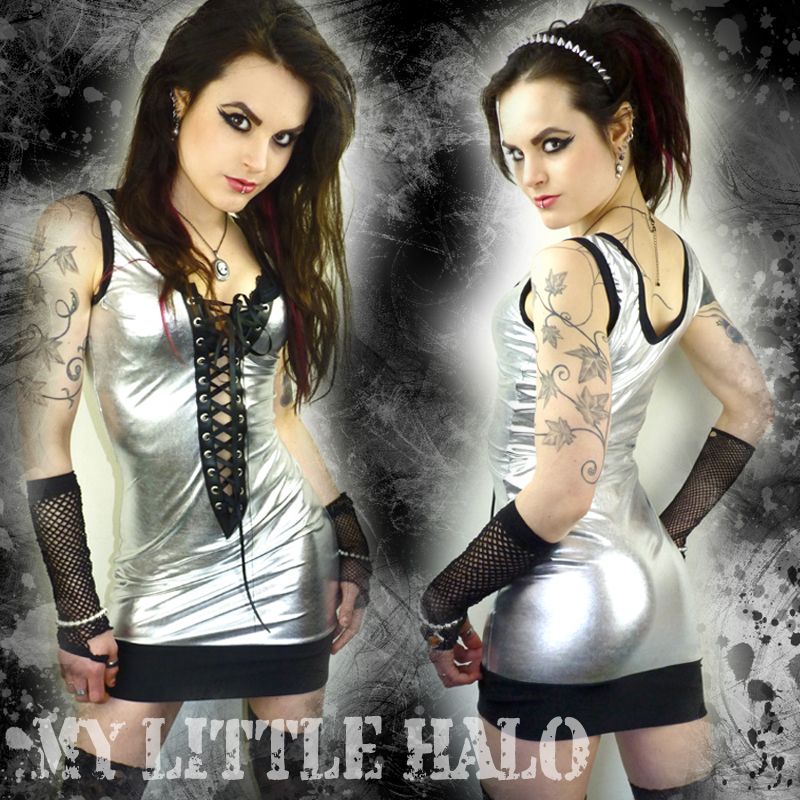 My exciting news of the week is that I took my first order for mens wear from guitarist of Chicago based band Down N' Dirty. He was looking for a custom pair of tight fitting flared jeans/trousers with lace up crotch, bleached and studded and totally glam rock to wear on stage. So I worked with bleached denim and leather look lycra for the main body with lace up crotch and faux leather lace up panels on the thighs, filled with black leather look, studded with silver pyramid studs and lacing up with white ribbon which falls at the sides. The backs I made with black leather look, with bleached denim studded pockets and long lace up panels going up the bottom of each leg. The customer loved them and I enjoyed making them so hope I will be making him some more stuff soon. Looking forward to seeing some pics of them on stage!
Custom Mens Flared Glam Rock Studded Lace up Trousers..