I've been enjoying the sun shining into my office while I've been working this week and it's been getting me in the mood to design and create some new alternative summer clothing items. First I thought I'd go over my summer skirts section and update some of the older designs with some newer fabrics and styles. I found this black and white storks and stars print fabric which I love so using it I made this skirt. It has a stretchy, elasticized black cotton waistband with a puffy gathered circle skirt in the storks and stars print, with two tiers of black tulle underneath. The waistband is decorated with some lace up panels, lacing with white ribbon to match the storks. This is now available from the punky rah rah skirts section of my website and it will be custom made to fit both regular and plus size. I'm just now waiting for my supplier to get their delivery of sparkly brand new fabric prints in store so that I can continue with updating my range of mini skirts.
Black/White Storks & Stars Print Mini Skirt...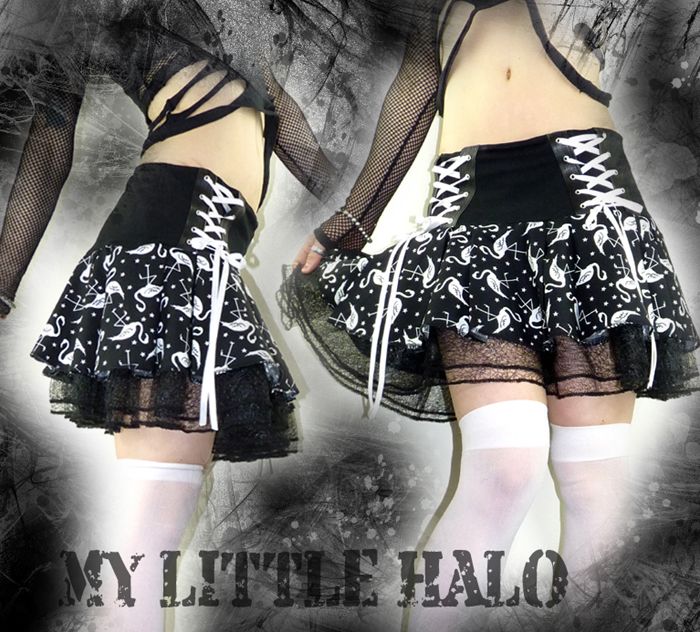 Also this week I was looking back at my all time favourite bleached denim studded vest top I've made which was one of a kind and trying to figure out a way of making a similar rock style corset top that is more "ready to wear" and will be possible to make as a repeat item in regular and plus size without being as time consuming and expensive as the one of a kind version. This is the design I came up with. It is made with bleached tan and grey denim with halter neck strap, front zipper fastening and black studded faux leather decoration down the front. Either side of this are black ribbon laces ups, criss crossing down the bust and forming bows at the bottom. I seriously love the effect of bleaching this type of textured two tone denim, I think it has a really cool effect (as you can probably tell by all the different clothes I've been making with it!) So anyway this corset top is available for regular and plus size, made to fit from the tops and corset tops category of my website.
Bleached Denim Studded Rock Corset Top..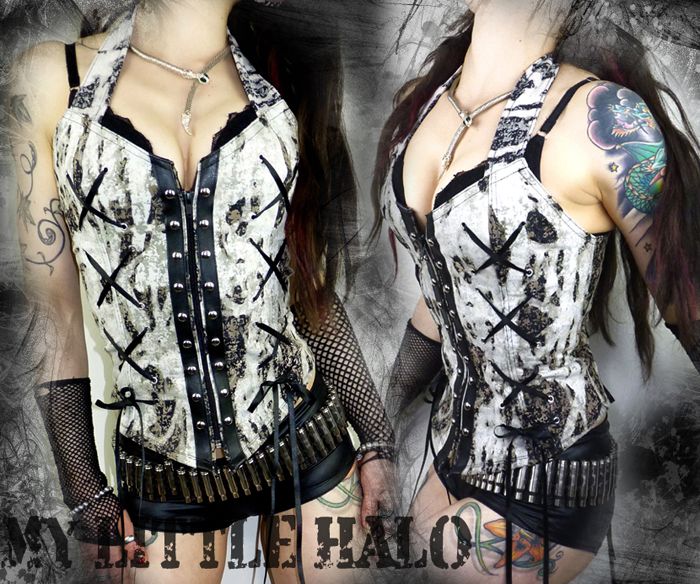 I found a few pieces of this black ponte roma jersey I had leftover from making hot pants and thought I'd make another one of a kind pair of high waisted hot pants. They are fitted with a front zipper fastening and feature tiny skulls decorating the front on one side, with matching skull print back pockets. They are roughly a uk size 8/10 and are on sale at £21.99 since I made them just to use up some scraps. The full measurements are listed in the product description and can be found by clicking the picture.
Black Skulls Print High Waisted Hot Pants...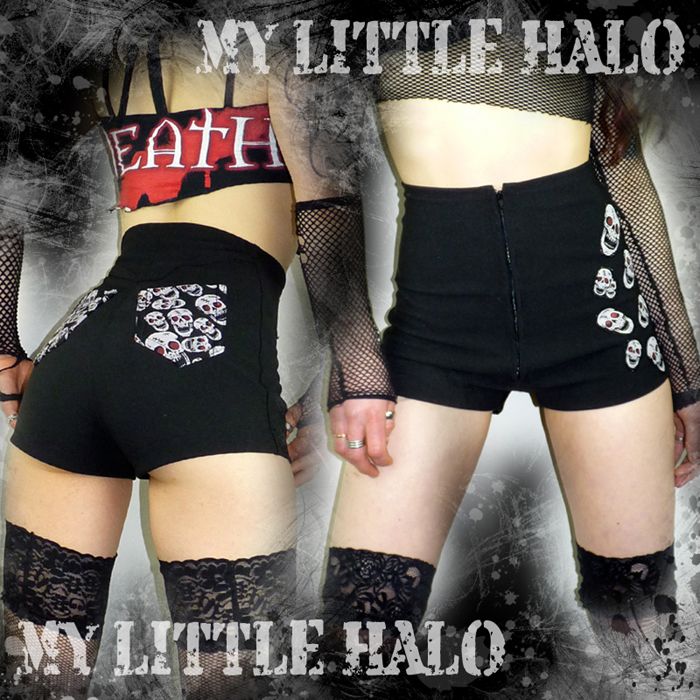 And lastly, I thought it was time to bring out some more summery dresses. I feel I've made a lot of fitted corset dresses lately but haven't turned my attention much to a more slinky stretchy style of dress which some people might prefer. The first dress I made this week is in red silky stretchy lycra with a deep low cut lace up front, sexy and revealing but not too revealing. The lace up is in black and the sleeves, bust line and lower hem are also in black lycra to match. This dress is available in both regular and plus size from the strappy dresses and mini dresses section of my site and will be made to fit your own measurements. I love this dress, it feels amazingly comfortable to wear and I will be making some more dresses in this style very soon!
Red/Black Low cut Lace Up Mini Dress...