This week I've been working on more leggings and hot pants. I was looking at one of my favourite pairs of one of a kind leggings I've made which was a pair of bleach splattered studded leggings with lace up cut aways on the thigh and lower leg, showing some skin in a sexy but not-too-revealing kinda way and thought it'd be cool to create this same effect on a new pair of leggings that I can make for all sizes as a regular item, without being as time consuming as the original pair. I asked some of my facebook fans what colours they'd like to see and I got a lot of people asking for reds and blacks as well as purples. So I decided to go with red and black at first and maybe do something in purple at a later date. These leggings are made from glossy black wet look lycra, with open cutaways on the thigh and calf, with red faux leather finishing, decorated with silver pyramid studs and silver eyelets lacing up with black ribbon. The back is made from plain black wet look with a wide elasticized waistband. These leggings are available custom made to measure from the Glam Rock & Punk Studded Leggings section of my website.
Red & Black Wet Look/Leatherette Lace up Cutaways Studded Leggings....
I also made a practice pair of glam rock studded bootcut jeans in preparation for a similar custom order. They are made with black denim and wet look, lace up crotch fastening and panels of bleached denim and studded faux leather. The main body of the backs are glossy black wet look with denim pockets and denim bootcut and waistband. They didnt look quite complete when I was done, so I bleach dripped the bootcuts upside down creating the cool effect of white flames creeping up from the floor. They are a one of a kind pair of jeans/trousers in a size 8/10. I made them extra long so they can be warn with heels :) Click the photo to view them on my website.
One of a kind Denim/Wet Look Bleached/Studded Bootcut Jeans...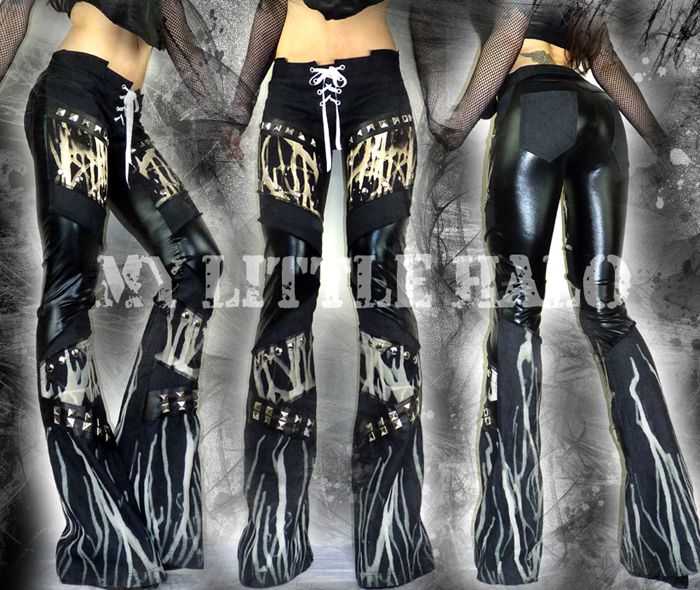 And lastly I've been meaning to make myself some new wet look hot pants which I finally got round to yesterday and since they turned out so well I thought I'd add them to my website as well. They are mini low rise hot pants in black wet look with an adjustable lace up front fastening and black wet look waistband. I've listed them under the Hot Pants & Shorts category of my website and I will custom make them to fit any size including plus size up to 48 inch hips.
Black Wet Look Lace up Mini Hot Pants..