I recently added a new mini dress to my collection of summery strappy dresses & mini dresses-made from glossy black wet look, sexy skin tight with lace up on the bust and a deep, low cut lacing up back. This dress will be made to measure and is available to regular and plus size.
Glossy Black Wet Look Mini Dress-with lace up front & back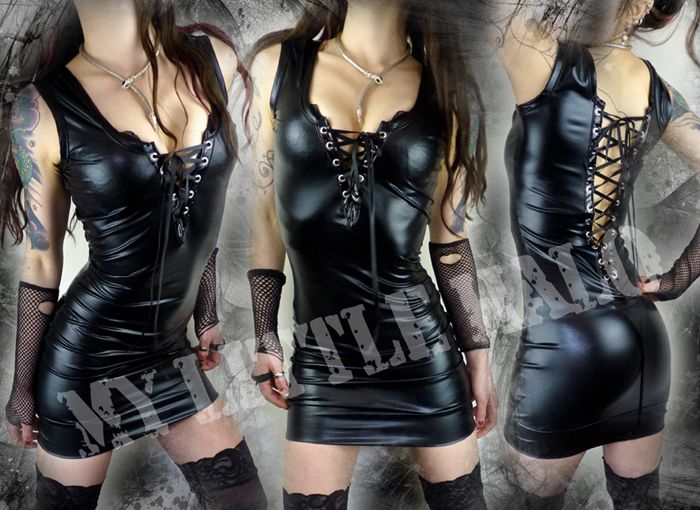 I've been trying to find some cool new fabrics to make more long sleeved dresses and hooded dress tops with, since I can no longer get the fabrics for most of the ones I made last year. This is such a pain since the skull and crossbones dress top was so popular! Anyway I came across this gothic crosses print last week and made this new dress top with crosses print panels on front and back, large front pocket and lined hood. I'm making it to measure for regular and plus size too!
Black & White Gothic Crosses Hooded Dress Top
>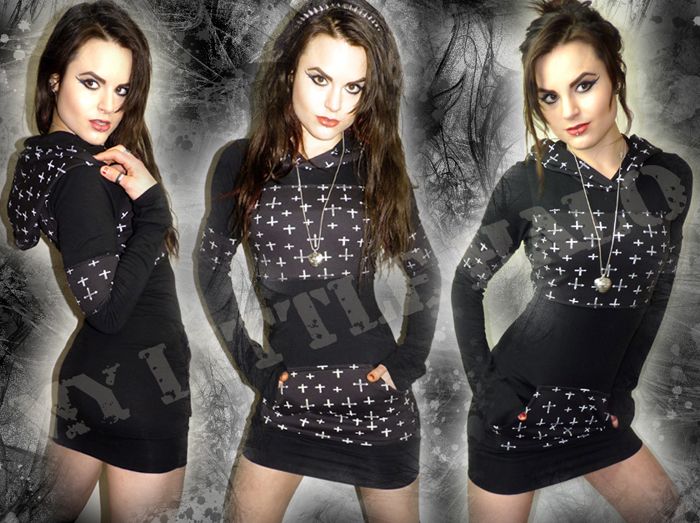 And lastly for today-an up-cycled suede bustier with fringe, adjustable lace up front and black faux leather studded decorative bits made from a top I was given but never wore because it didn't fit. The bustier is roughly a size 8/10 and can be found in the custom and one off clothing part of my website.
Up-cycled Suede Fringe Studded Bustier...
And...I decided to make my top selling style of tartan corset dress available in more colours, starting with hot pink! It has a fitted upper body in pink tartan and black lace with D-ring corset style lace up front, zipper fastening and halter neck strap. with a two tier gathered skirt in pink tartan and black lace. Available in regular and plus size from the corset dresses section of my site. Other colours available so far include red and turquoise : )