I was a bit nervous about starting a blog because i didnt really know how to go about it or what to expect, but im so glad i did! Thank you to everyone for all the lovely positive feedback on my work :) And especially to those of you who went on to buy things!!
Today i thought i'd write about my favourite bag that I ever made-This turquoise satin handbag with decorative beads, ribbons, buttons and sequins. I made it as one of a series, each of which took me several hours to hand stitch on all of the detail in it's own unique composition. I used massive 2" wide buttons in various colours, big blue sequins, beautiful multicoloured ribbons and pearly strings of beading. I was sad to see the bag go as it was my favourite!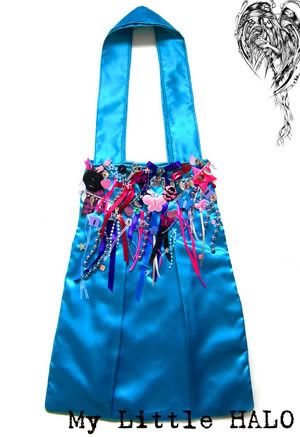 I also have a very similar bag, emerald green in the same satin fabric.