I've just added a bunch of items in random sizes to the sale items section of my website. Most are the original of it's kind which I normally like to keep, but am running seriously low on storage space so....they gotta go!
First up is one of my more popular halter neck corset tops made with black and white stripe cotton with zipper front fastening that opens right out, black lace trim on bust and waist and decorative lace up black ribbon running down the bust on the front. It's roughly a UK size 8 and full measurements and description are available by clicking the image. Reduced to £19.99, down from £33.99!
Black/White Stripe Zipper Top SIZE 8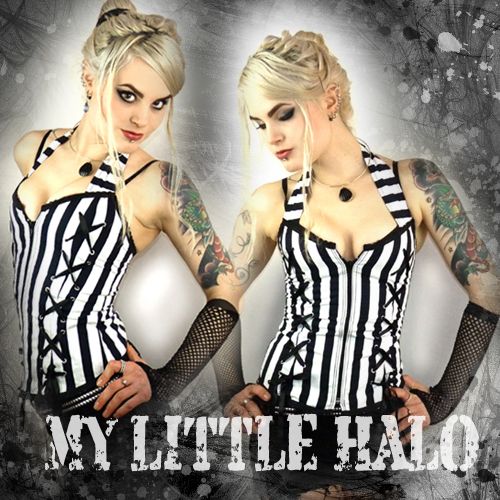 These leggings have to be one of my most popular designs by far, however sadly (and very annoyingly) my supplier no longer stocks the fabric, so this is the last ever pair available. They are black cotton emo/gothic style leggings with panels of skulls and roses cotton and black and white star print cotton paneling across the front and plain black backs. They are around a UK size 10/12 with full measurements on the site. Reduced to £21.99, down from £31.99!
Skulls, Roses & Stars Leggings SIZE 10/12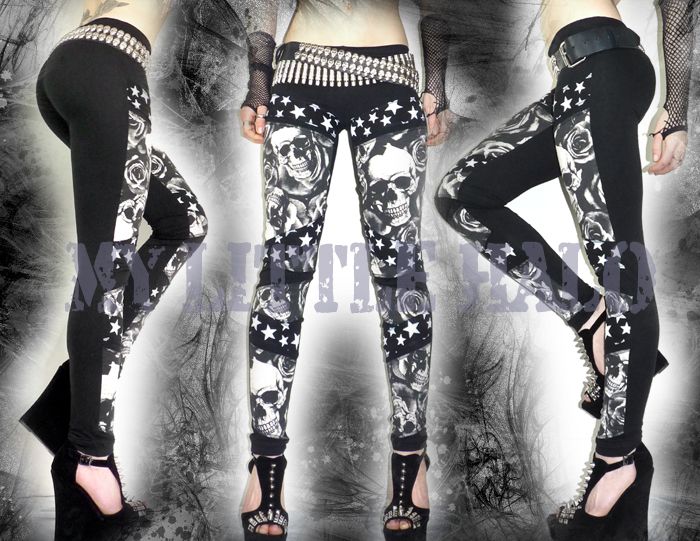 This corset is something I made around a year ago. It's a fully steel boned underbust corset made with black and white zebra print cotton with 4 layers of fabric thickness to hold in the waist nicely, lacing up with a white ribbon at the front and finished with black satin binding. It's a UK size 6, with measurements on the site (by clicking the image). Reduced to £21.99, down from usual custom made price of £41.99!
Zebra Print Underbust Corset SIZE 6
This corset dress is one of my most popular dresses ever. It's a halter neck dress made with a fitted upper body, with zip fastening and lace up front with silver D rings. The lower part is made up of two tiers of tartan and black floral lace, gathered to create a puffy tutu like effect. This one is around a UK size 16, reduced to £39.99, down from £64.99!
Turquoise Tartan Lace Up Corset Dress SIZE 16
This top is a fairly new design, a lace up corset top made from gorgeous silver spider web lace on black cotton, with zipper front fastening and silver D rings forming a lace up front. The top and bottom are finished with black lace trim and the strap is a halterneck. UK size 8 only. Reduced to £19.99, down from £33.99 for usual custom made!
Silver Spider Web Lace Up Corset Top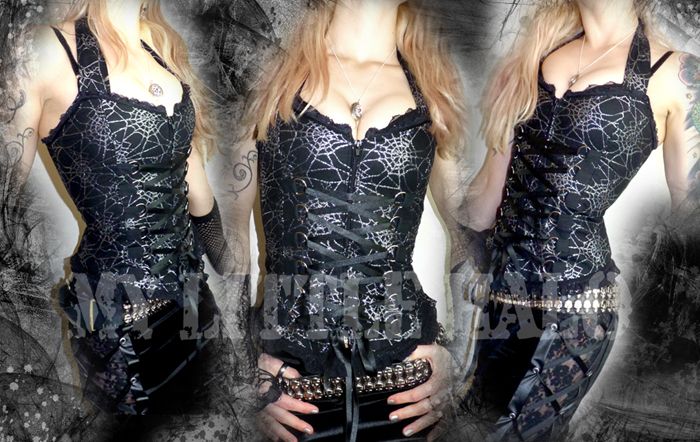 And lastly this gothic dress top, which again I can no longer get the fabric for. I listed this for sale yesterday and it already sold, WOO HOO!
Skulls & Roses Hooded Dress Top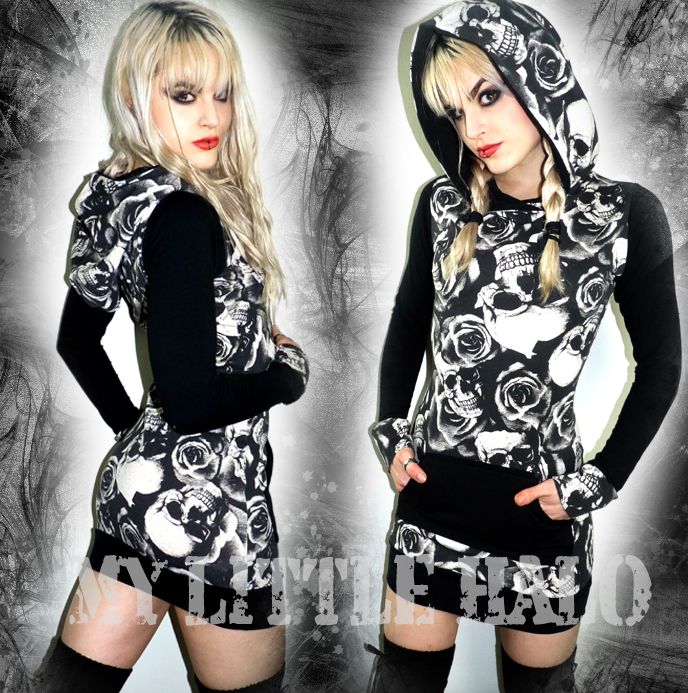 I may add some more items shortly once I've finished digging through my stock cupboards and there are plenty more goodies on sale at great prices available from the sale section of my site!