Lots more new stuff to show off, mainly because I've gotten so behind with this! Firstly I decided to make an updated version of one of my old dresses which I was no longer happy with. It's a gothic corset dress made with a fitted body in black satin, with halter neck strap, zip up front fastening and metal D rings which form a lace up panel on the front and lace trim on the bust. The back features another corset style lace up panel with large silver eyelets and black ribbon. The tutu style skirt is made with black satin and tiers of gothic black tulle beneath and another shorter tier of tulle on top. It is available in regular and plus size, custom made to fit your own measurements from the corset dresses section of my website.
Black Satin Lace up Corset Dress...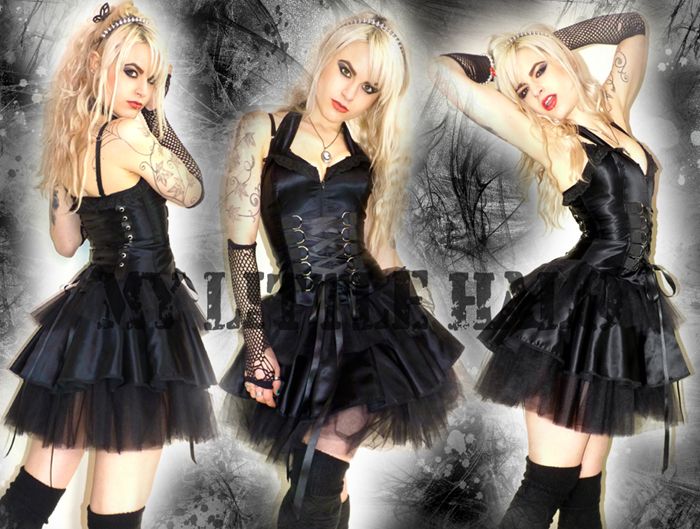 Next is a new corset top similar to the red satin burlesque corset top in my earlier post. It's a fitted top made with purple satin overlayed with black floral lace, with a halter neck strap, zipper fastening that opens right out and a black ribbon lace up panel at the front. The bust and lower waist of the top are finished with black lace trim. This corset top will be made to fit regular or plus size and can be viewed on the corset tops part of my site.
Purple Satin Lace Burlesque Corset Top...
Next is a new pair of gothic/rock style studded leggings which I'm quite in love with. They are made from black glossy wet look lycra with snug fitting plain black back and cut away panels on the front which are filled with black semi see through lace and decorated with black strips of faux leather which is studded with large silver pyramid studs.
Black Wet Look/Lace Studded Leggings...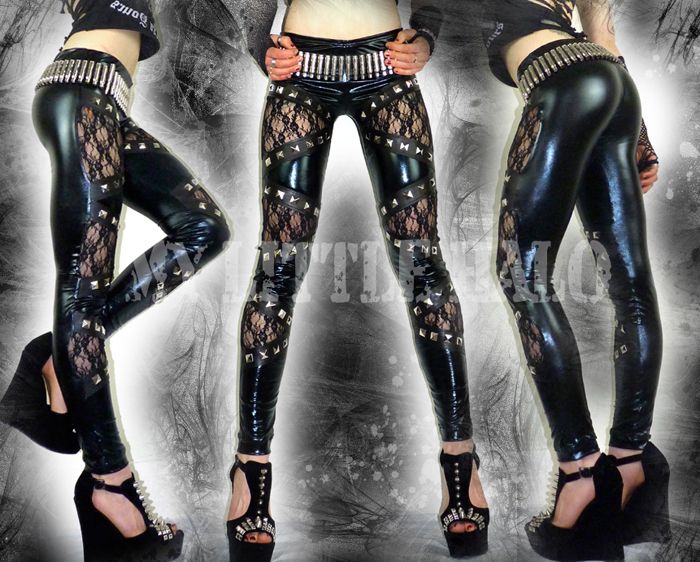 And lastly I found this awesome textured denim fabric which I've become quite obsessed with. I decided to make a new special one of a kind top, as most of the ones I had listed on my website have sold. It's made with alternate panels of textured denim and black denim, semi stretch for a snug but comfortable fit, with individually cut black faux leather swirls and spike shapes on front and back in a symmetrical pattern and studded with silver eyelets. The top fastens with a zipper at the back and opens right out and there is a faux leather halter neck strap, decorated with more silver eyelets. The top will fit roughly a UK size 8/10 but the full measurements can be seen in the one offs and custom clothing page.
One of a Kind Denim Studded Swirls Halter Top...