Another new item to show today, this has to be one of my favourite tops I've made so far. A glam rock, bondage style studded crop top made from alternate panels of black faux leather and denim. Black leatherette straps cross over at the front and back, decorated with silver eyelets and the front features silver studded black bondage straps that cross the bust and fasten with silver metal poppers. There is a zipper fastening at the back.
I've decided to try and steer my style towards a more glam rock, metal rocker chick style and to start making much more exciting clothing featuring lots of metal studs, D rings, eyelets, buckles, straps and the like. In an ideal world I'd love to make one off items that are incredibly detailed and exciting to look at, really unique one-off pieces. However since these things take much longer to make and cost a lot more to make, that would have to be reflected in higher prices. Which is a problem because my target market is fairly young and young people dont often want to spend a lot of money on one piece of clothing. I guess that's a kind of long term goal for me, but for now I'm just going to list these things on my website in a special section for women looking for this very specific style. To be honest I've always wanted alternative clothing in this sort of glam rock, biker chick, tough girl style and have never found anywhere else that sells them, in this country at least. And before I ever started making clothes or got good enough to make this style, if I had come across some of my tops back then online, I would have been willing to pay well just to get this unique hard to find style, so maybe others will too. Here's hoping :)
Anyway I digress, here's the top....
Denim Studded Tube Top
....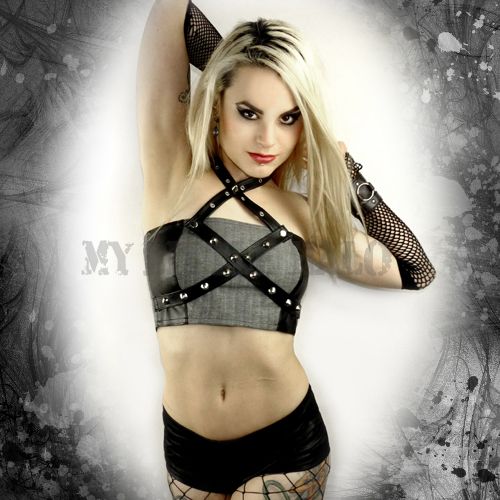 Also showing off my new black
wet look hot pants
!