This week I've been trying to accept that it's cold and it is only going to get colder, so it's time to start making some stuff that will actually provide some warmth while still looking good. I find it's difficult to look good in the winter, when it gets super cold I tend to just pile on the man jumpers, but this year I'm going to make it my goal to make some proper nice warm gear. Though since this is a bit of a foreign area to me, I decided to start of with some long sleeved tops and then ease my way into some warmer jackets and things :)
I was quite inspired by a recent custom order of mine for a Morticia Addams dress, so decided to make a top in a similar style to that. The dress is a floor length fishtail dress in black velvet with v shaped neckline and long caps on the sleeves. Luckily this awesome customer is the same size as me so I managed to get a quick shot of the dress. Anyway I liked the velvetyness and the long sleeves so made a long sleeved top in the same fabric which is now listed on my website, custom made to fit-regular and plus size.
Here's the Morticia dress...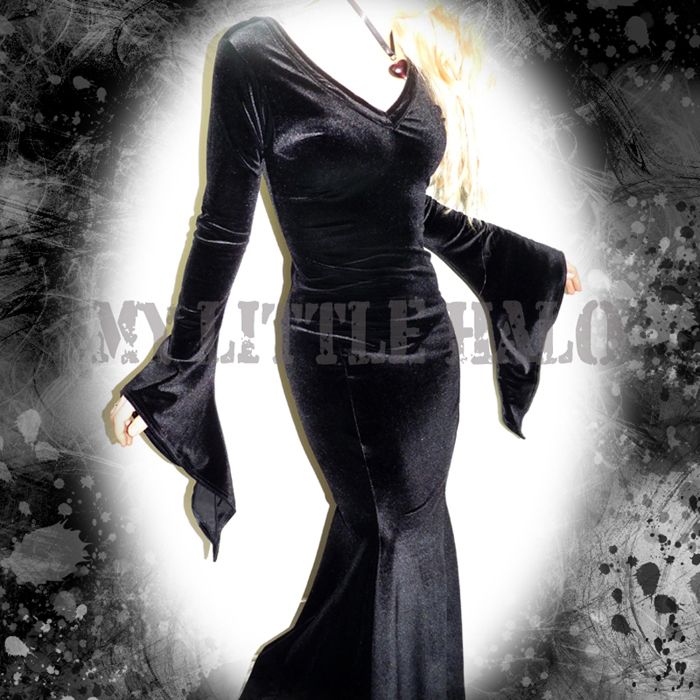 And here's the top it inspired...
I then went on to attempt a hooded dress top, which turned out great (jf I do say so my self). It's really comfy and snugly and I didnt want to take it off after shooting the photos for it. It's made from black cotton lycra with panels of stretch red tartan print, which add extra warmth and thickness to the front and especially the large panel on the back. The hood is plain black and lined with tartan which makes it extra awesome and gives the hood some extra thickness and snugglyness too. From the pictures it's not very clear but there are also silver D rings on the shoulders. I photographed it as a dress alone so you can see it clearly, but obviously could be warn over leggings or jeans to keep nice and cosy. This one is also available custom made to fit regular or plus size.