I have made a couple more wintery style things this week. First off, after years and years of my parents hassling me to wear a coat because I'll "catch a chill", but refusing to because a)they are expensive and I don't often treat myself to new things and b)I can never find any coats that I even like, I finally took the time to make myself one. ANNNNDD I like it! It's a cropped coat made from black cotton and lined with black fleece, the hood is also lined with fleece which feels lovely on my head. It's sort of like wrap around, with adjustable silver buckle fastenings and large silver eyelets for decoration. But it's also joined at the bottom, so it's more of a pullover than a coat. I made it short/cropped to emphasize my waist as I hate how frumpy and unsexy coats normally make me feel. I know, I know what you're thinking..."She'll still catch a chill with her midriff on show like that"....WRONG! I only shot the photos like this to make it clear that it is cropped, however it can, and will be warn with other clothes underneath. It's just a lot easier to see the actual length of it without clothes underneath, since all my clothes are black.
Anyway I'm waffling now...This took me agggesss! Although I haven't figured out yet if that's because of the design or whether it's simply that I haven't made any coats before, so once I've had a bit more practice, I would be up to speed a bit better. I'm thinking the latter. So I'm still in the process of deciding whether to list it for sale on my website or not, due to the time/money involved. However I had a lot of positive feedback when I posted the pic on facebook last night, so maybe I will...
Cropped black buckle coat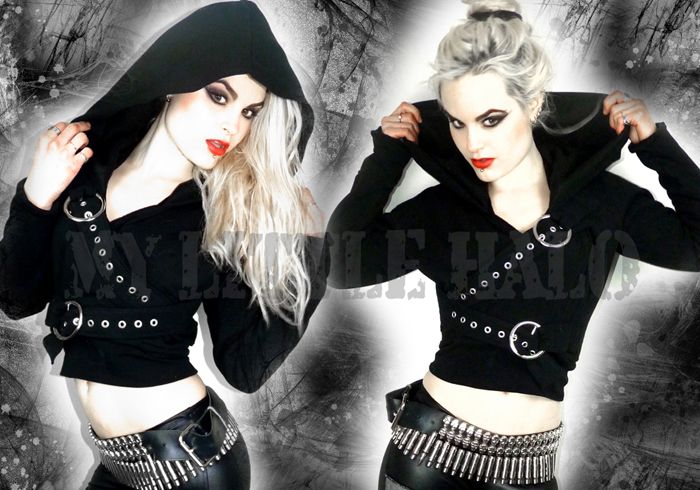 And I made another long sleeved hooded dress top, similar to my tartan hooded dress top from my previous post. This one is also made from black cotton with panels of black and white skull and crossbones print cotton on the front and back. There's a big panel on the back to add warmth and thickness. Oh and I added a cute front pocket and extra strips of skulls on the sleeves. And the bottom hem or the dress as well as the sleeves are cuffed.
Skull & Crossbones Hooded Dress Top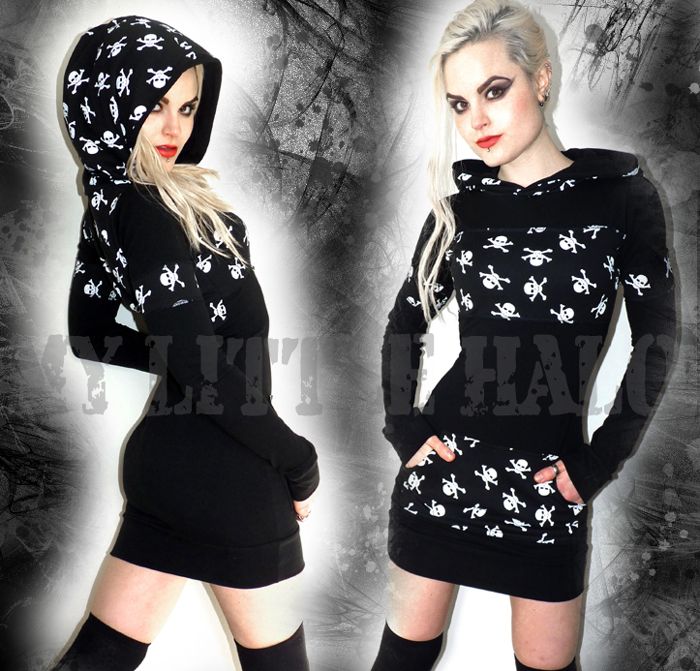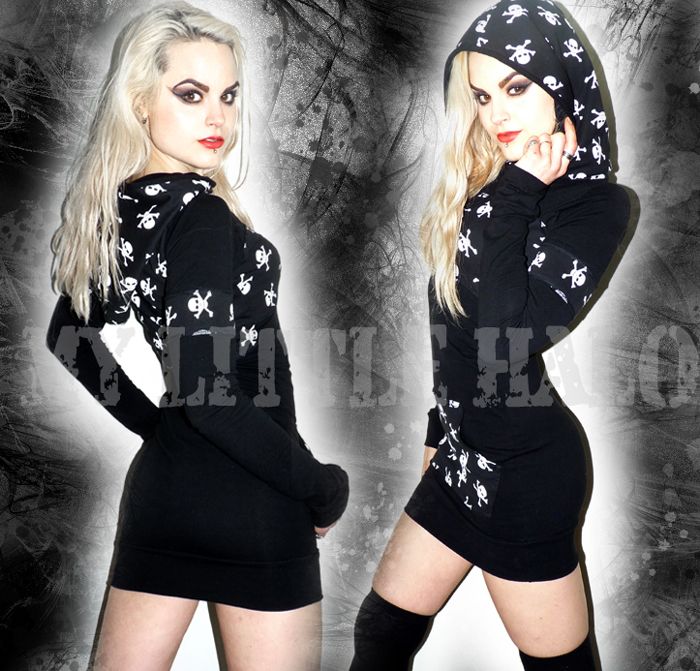 This one is available made to fit regular or plus size and is available for sale from the long sleeved tops section of my website.