I seem to have disappeared off the radar these past few weeks, things have gotten so busy I've been shackled to my machines constantly, hence my lack of bothering to post anything on here :( Anyway-catch up time, here are a few of my latest designs....
Rainbow Stripe Tutu Dress
This dress is made from multicoloured striped cotton with a fitted body featuring zipper front fastening and big decorative black bow and lace trim on the bust. The tutu part is made up of two tiers of stripe cotton and black lace. I love this dress! It may be a bit bright for some people's tastes, but I've always had a thing for rainbow coloured stuff! It makes me think of sweets and makes my eyes feel happy.
It's available custom made especially to fit for regular and plus size from the corset dresses and tutu dresses section of my website.
Punk Studded Tartan/Wet Look Leggings
These punk style leggings are one of kind and made from black glossy wet look lycra with panels of red tartan print and black studded faux leather. They are a UK size 8/10 and available to buy from the one of a kind clothing section of my site.
Leopard Print Lace Up Pencil Skirt
Lastly another lace up pencil skirt-I just love making these, I think they are super sexy! It's made from black wet look lycra with leopard print velour down the sides and black ribbon lace ups on top. It's available in regular and plus size and you can find it under pencil skirts!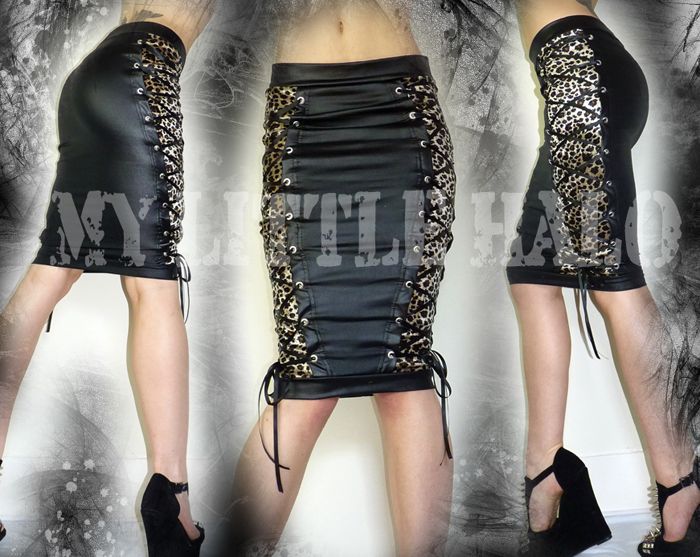 Back (hopefully soon) with more new stuff as soon as I find time!