I've recently found a few more goodies to put up on sale at a largely reduced price! The first is a
steel boned overbust corset
made with black sparkly mesh fabric, black leatherette and decorative white pvc lace up panels with D-rings, white lace up detail and zipper fastening at the back. This
corset
is fully boned and is finished with black lace trim around the bust and waist. Since this corset has a zipper rather than lace up fastening it cannot be adjusted so the measurements given are very precise.
SIZE 10 ONLY!
MEASUREMENTS:
*BUST 34"
*WAIST 27"
*LOWER WAIST 31"
SALE PRICE £24.99!!
Black Leatherette Sparkle Corset
...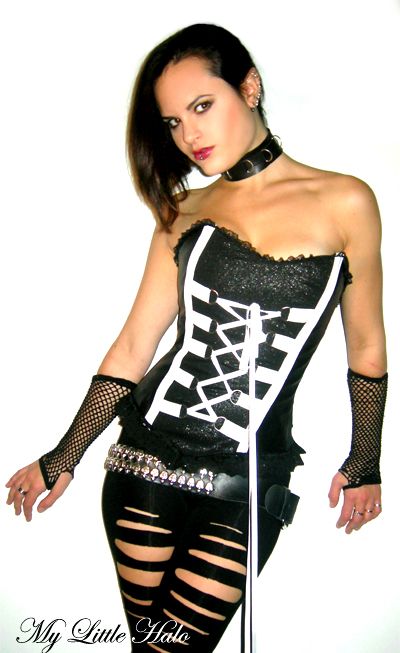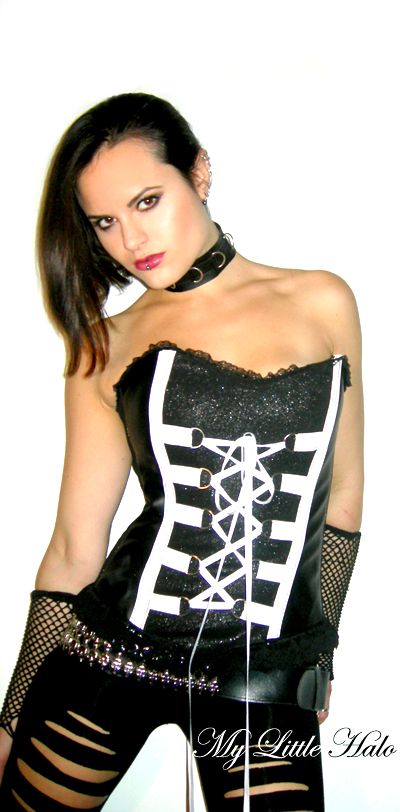 Next up is a black gothic long sleeved top made from stretchy black cotton with a panel of black floral lace down the middle of the front, with matching transparent lacey sleeves and black ribbon lace up across the front with silver metal eyelets.
SIZE 8/10 ONLY
MEASUREMENTS:
*BUST 34" up to 36"
*WAIST 26" up to 28"
*LOWER WAIST 29" up to 32"
SALE PRICE £16.99!!
Black Gothic Long Sleeved Lace Top
....
And lastly one of my favourites-a long and elegant, floor length, gothic fishtail skirt made from alternate panels of silver snow
leopard print
and silky black steamed velour. The skirt is shown with the leopard print at the sides, however it can be twisted a quarter turn to wear the leopard at the front, so you can get two great looks out of one skirt! The skirt tapers in at the knee and splays out at the bottom to emphasize the bodies natural curves, it also has an elasticated waistband for comfortable fit.
SIZE 8/10
MEASUREMENTS:
*WAISTBAND 29" up to 32"
*HIPS 34" up to 37"
*LENGTH 40"
SALE PRICE £16.99!!
Gothic Floor length Leopard Print Fishtail Skirt
...