I'm moving house soon and I desperately need to clear out a LOT of stuff so I've listed a few new dresses on sale! The first is a super sexy mini dress made with alternate panels of black and white stripe and silky black satin. At the front is a zipper fastening reaching the full length of the dress and which comes completely undone and overlapping the zipper is a lace up panel with metal D-rings and black ribbon. The straps are plain black cotton which cross over at the back and are decorated with silver metal eyelets.
It's a UK size 6/8 only..
TO FIT MEASUREMENTS: BUST 30"-32" WAIST 23.5"-24.5" LOW WAIST 30"-31" HIPS 34"-35" LENGTH: 25"
£26.99
Black/White Stripe Punk Mini Dress...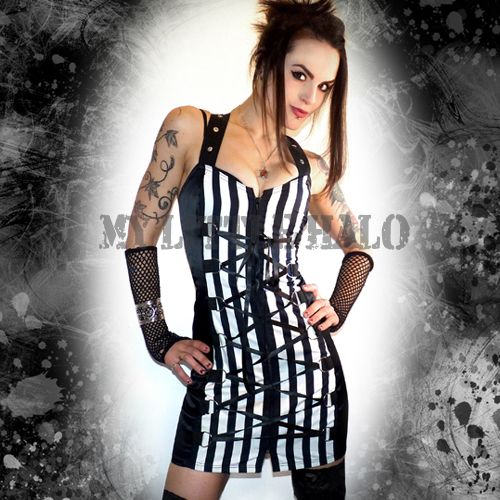 Next we have a halter neck tutu style dress made with silky black accetate satin. The dress has a fitted upper half with a zipper fastening at the front and v shaped scoop at the bust line. The lower half is made with lots of gathers and pleats to create this tutu effect, with white netting at the bottom and matching white lace detail on the bust and lace up corset style front.
It's a UK size 8 only..
TO FIT MEASUREMENTS: BUST 32"-33" WAIST 24"-25" LOW WAIST 29"-30" LENGTH: 25"
£29.99
Black/White Gothic Lolita Corset Dress...
And lastly a sleek and sexy, fitted long top with decorative black slashes and an under-layer of stetchy glittery black mesh and matching black glittery mesh sleeves.
It's a UK size 8 only..
TO FIT MEASUREMENTS: BUST 33"-35" WAIST 26"-28" LOW WAIST 29"-31" HIPS 32"-35" LENGTH: 27"
£14.99
Sparkle Slashes Dress Top...