So this week I've been doing a bit of scrap busting, in attempt to make room for new fabric. Alas it seems no matter how many scraps I use up, I barely make a dent in the mound of fabric pieces that is rapidly growing out of my storage cupboard and spilling across my whole studio....Well at least I tried!
These are one of a kind pieces of clothing, since the whole point is to use up fabric that I can no longer get hold of for regular items and is just sitting about doing nothing.
The first is a glam rock inspired studded zebra print top with lace up back. It is made from stretchy hot pink and black zebra print stretchy lycra fabric which is overlaid in the middle and at the back with glittery sparkle see through mesh and the front is decorated with black faux leather strips, studded with small round silver metal studs. The top has a stretchy zebra print halter neck strap and the back has a corset style lace up fastening with large silver metal eyelets. This can be adjusted to fit from a size 10 up to size 14, with the below measurements...
*BUST: 33"-38", *WAIST 26"-32", *LOW WAIST 28"-33"
Pink Zebra Print Glam Rock Studded Lace Up Top...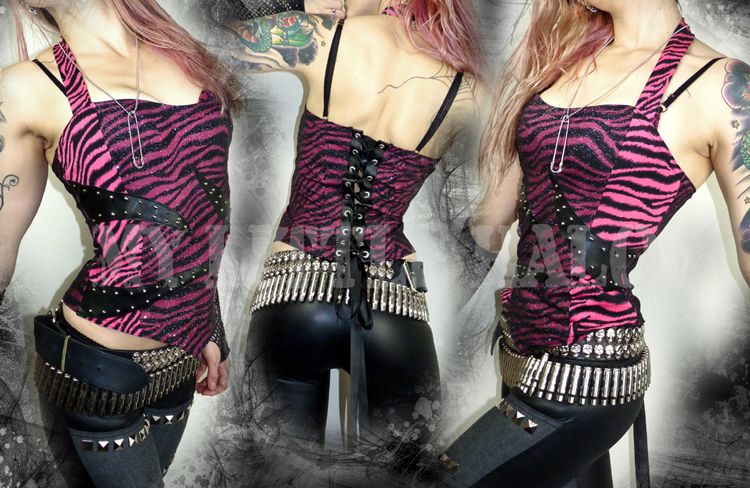 The second is a super hot black see through mesh top with black hi shine wet look bust, which is gathered with silver pyramid studs in the middle. More black wet look spikey strips on the front and back, which are also studded with silver pyramid studs. The top has stretchy spaghetti straps which are studded at the front and which cross over at the back. This top is around a UK size 8/10 with the below measurements...
*BUST: 32"-34", *WAIST 26"-28", *LOW WAIST 27"-29"
Black Wet Look Studded See Through Mesh Top...