I'm still trying to use up some of my older fabric before I invest in some exciting new stuff. I have so many different fabrics but not enough of any of them to make something whole, so I'm just mixing and matching different pieces and seeing what I come up with. So here's a super sexy, figure hugging pencil skirt I made this morning! It's high waisted and made from black semi wet look lycra with red pot hole fishnet panels down each side. The panels are studded with large silver eyelets, which lace up with black ribbon and tie into bows at the knee. The elasticated waistband and bottom hem of the skirt are made from hi shine, glossy black wet look lycra. The skirt fits a uk size 8/10 with the below measurements...
*WAISTBAND 26"-31", *HIPS 32"-36"
Black Wet Look Lace Up Pencil Skirt...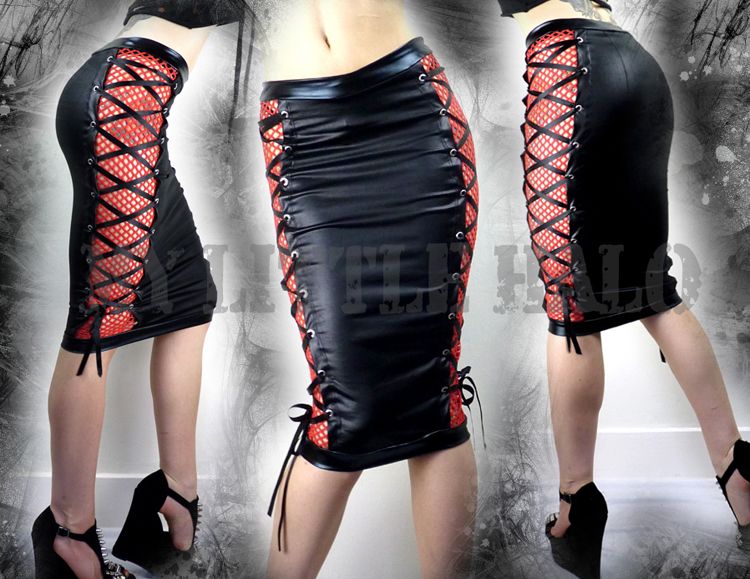 Also after finally finding some similar fabric I've been able to update the zebra print leggings in my shop with a new and improved version, after the original fabric went out of stock months and months ago. These are actually the most comfortable leggings I've ever worn, they are made from a light, silky soft zebra print stretch, ideal for warmer weather. They're so stretchy and comfy that it barely feels like you're wearing them.
These are available in my shop to be custom handmade to fit any size up to a maximum hip measurement of 52". One price for all sizes!! Just £17.99